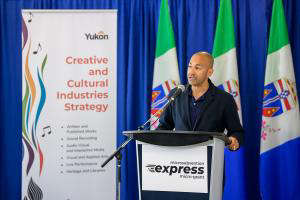 Photo: Tourism and Culture Minister Ranj Pillai
Starting in the early fall, an express-micro grant will be offered to Yukon's Creative and cultural industries
YUKON - Funds are being provided through the Department of Tourism and Culture to Yukon's creative and cultural sectors.
In the form of an express micro-grant worth $150,000 annually for the short term to help fill the space in current funding supports offered.
Starting on September 1st, applicants may receive up to $5,000 with, tier 1 applications getting from $0 to $1,500 and tier 2 applicants getting 1,501 to $5,000.
The grant is designed to be flexible for allowing a rolling intake. The simple application process and reporting requirements, with quick turnarounds for approvals, will help the sector be more responsive to opportunities that are urgent.
The need for a grant was a priority in the Advancing the Yukon's Creative and Cultural Industries strategy in November 2021.
Two more funding programs are being looked into in the strategy and will be developed after reviewing the Yukon Government's creative and cultural funding programs.
The new funding program will be administered by the Department of Tourism and Culture, with support from Economic Development.