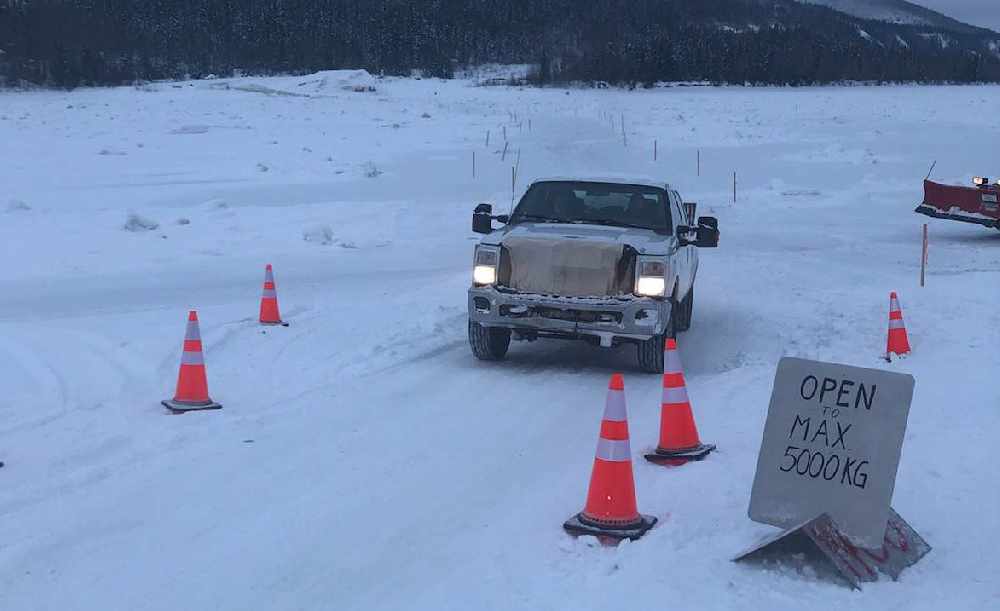 A pickup trick having crossed the completed ice bridge. Photo by Jim Regimbal.
Mother Nature is finally cooperating with Dawsonites.
The Dawson City Ice Bridge is finally open to the public.
The ice bridge was officially opened up on Monday over the noon hour, with cars, trucks and SUVs allowed to cross.
Highways and Public Works Northern Area Superintendent Jim Regimbal says the bridge formed nicely and is now accepting light vehicles.
"The ice bridge was opened up to a maximum of 5000 kilograms. It's actually a preliminary bridge, it's about a15 metres wide ice bridge, and the company (Big Ice) put that in before Christmas, which was what (I) was shooting for."
Regimbal says the next steps will see Big Ice Services from Saskatchewan return to the bridge site and work towards expansion and strengthening work.
"It's definitely a little bit rough, but they're able to open it before Christmas and it will smooth out after Christmas. That was our top priority, get it open for the folks in West Dawson before Christmas."
Another crossing lane designed for heavier vehicles is set to be in the works and expected to open by mid-January.