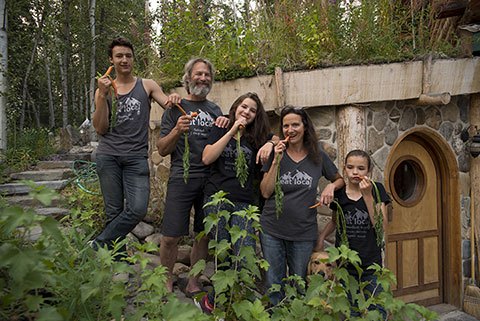 Suzanne Crocker, (second right) her husband Gerard, and three children ate all Dawson-area produced food for one year. Photo: Suzanne Crocker/First We Eat website.
The Crocker family took part in the First We Eat: Food Security North of 60 project which came to a close at the end of July.
The idea of eating all locally-sourced food north of 60 seems impossible to most, but one Dawson City family is proving it can be done.
Suzanne Crocker, her husband, and three children ate all local food for one year in a project that ended this week called First We Eat: Food Security North of 60.
Crocker found processing, and storing large supplies of food the biggest challenge, along with living without some basic ingredients we all take for granted.
"Learning to live without salt was another big challenge. Learning to live without simple things like baking powder, or condiments, (and) having very few grains." Crocker said.
"These were challenges that were overcome, and it was delicious."
The filmmaker and retired doctor says the first three months of sourcing and making products from local producers was super difficult.
"Some things like making my own sourdough starter, and making my own butter, and cheese and yogurt. To how to identify plants I use to think were just weeds, or didn't even see, and now I know they're edible and all the nutrition value they add, to using all parts of the animal." Crocker said.
"The list goes on."
Crocker says she feels as healthy as she has in years, and while her family has 'fallen off the wagon', so to speak, she plans to keep eating local food, incorporated with normal staples such as baking powder, sugar, and vegetable oil.
The family was thankful for the support of Dawson-area producers and residents who pointed them in the right direction to find ingredients they needed.
She says the family celebrated the end of the project by going to the grocery store, and eating at a local restaurant.
(Audio: Tim Kucharuk chats with Suzanne Crocker about her experience over the past year.)