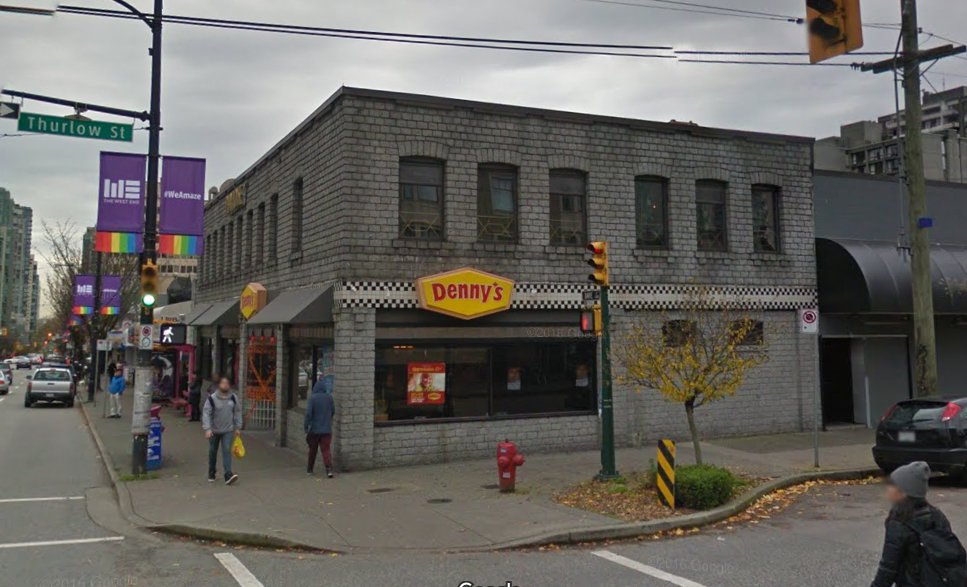 A Vancouver Denny's restaurant where a Yukon woman says she was discriminated against (Online Photo/Google)
An Indigenous Yukon woman says she was the victim of discrimination at a Vancouver restaurant when she was asked to pre-pay for a food order.
An Indigenous Yukon woman says she felt degraded following her experience at a Vancouver Denny's over the weekend.
Helaina Moses was in Vancouver on Friday night on her way to an environmental monitoring course in Nanaimo when she and her boyfriend went out for drinks.
After a night out, the pair decided they wanted a bite to eat and found a 24-hour Denny's on Davie Street and Moses said they weren't even given drinks when the waiter came back with a bill.
"We weren't even human enough to get a glass of water. He just slapped the bill down on the table and he said you have to pay up front before we put your order in with the kitchen and me, being an outgoing person, I stood up and I asked the other customers if they had to pay up front, and they all said that they haven't even paid for their meals yet. "
Moses says this was the first time she had ever experienced something like this.
"I just felt so singled out, and violated, and embarrassed and it just really hurt my feelings and I stepped out to cry and my boyfriend followed me out after. We just wanted eat because we were hungry. Obviously we were just up all night enjoying our time on the town and we just wanted to have a nice normal, civil meal. "
Moses says as she was being consoled outside, several police officers showed up after being told the pair was armed and had a knife, however the Vancouver Police Department says no weapons were found and there was also no evidence of a crime.
In a statement, Denny's says they have reached out to Moses and they are in the process of conducting a full investigation.