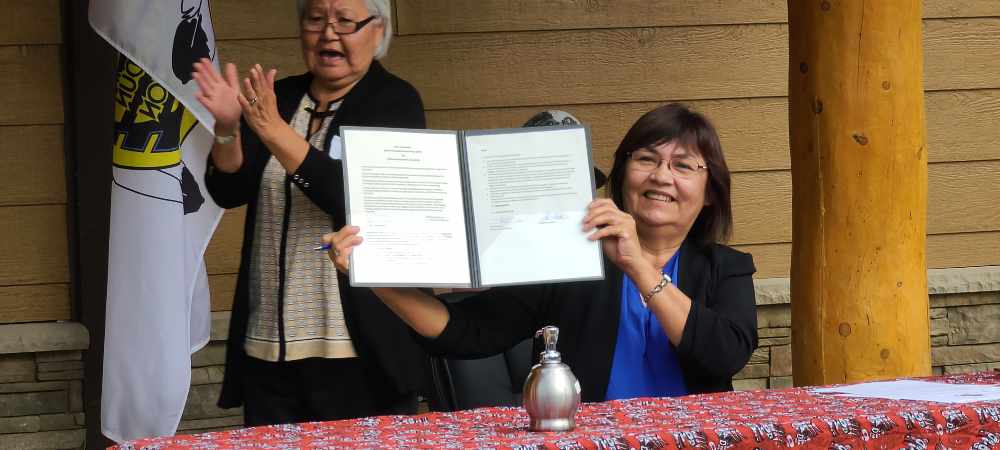 KDFN Chief Doris Bill holds up the signed letter as Elder Judy Gingell looks on. Photo: Tim Kucharuk/CKRW.
A Letter of Expectation calls for a third officer in Kwanlin Dun and police accountability among other measures that put the focus on community.
A new Letter of Expectation between the Whitehorse RCMP and the Kwanlin Dun First Nation is being called the first of its kind.
Chief Doris Bill and Acting Officer in Charge Sergeant Greg Holmberg signed the letter in a ceremony outside the Nàkwät'à Ku Potlatch House Tuesday morning.
The letter focuses on four areas--communication, relationship building, youth partnerships, and community safety.
Bill hopes the agreement changes the way her community is policed as the First Nation will have a say through various priorities.
"I believe that any RCMP officer who comes into a community needs to understand the dynamics, the culture, and even the trauma of the people that are in the community," Bill said.
"I think that overall, that's the key to developing good policing in any community really."
Bill says she does not agree with the 'Defund the Police' movement but agrees reforms for police to create space for community initiatives are needed.
She points to the Community Safety Officer program started in 2017 which has officers trained in mental health, addictions, investigation, conflict resolution, and community safety patrolling the community.
Yukon RCMP Commanding Officer Chief Superintendent Scott Sheppard says he knows there's a lot of pent-up frustration with police and a fundamental shift is occurring.
"This Letter of Expectation is going to clearly spell out what those expectations are and provide--equally important--an accountability process to make sure we meet those obligations and the needs of the community," Sheppard said.
Actions include regular meetings, a third RCMP officer trained specifically for Kwanlin Dun, and for officers to sit on KDFN boards and committees and be active in the community.
The First Nation, federal, and territorial governments signed a Community Tripartite Agreement under the First Nations Policing Program in June. The LOE is a result of that agreement.
#Yukon RCMP Commanding Officer Chief Superintendent Scott Sheppard says the letter includes an accountability process to make sure police meet their obligations and community needs. pic.twitter.com/EUgPw576V2

— Tim Kucharuk (@TimKucharuk) July 21, 2020