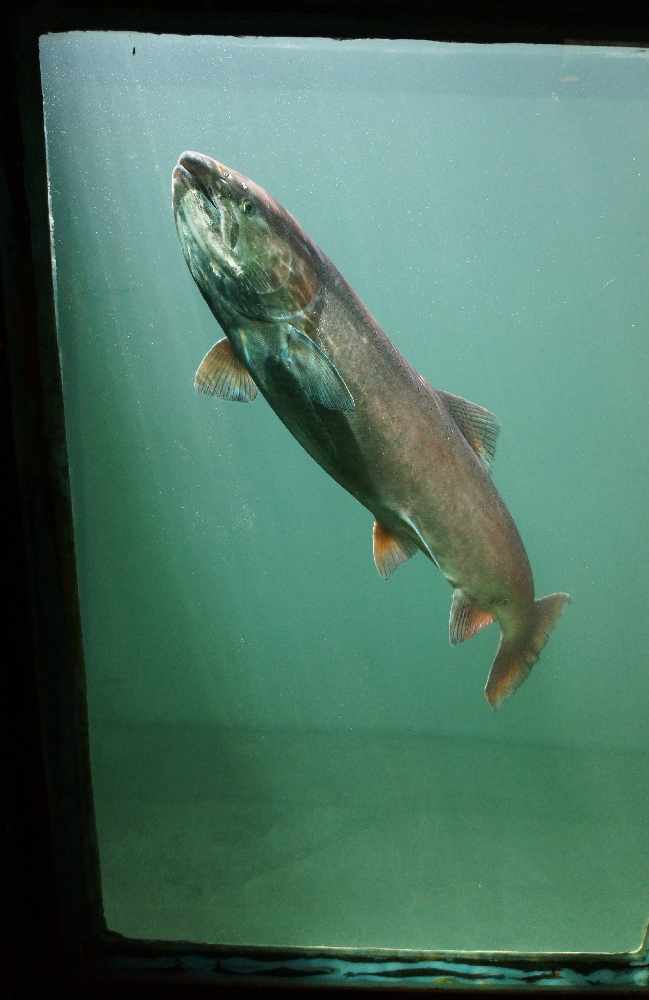 A Chinook Salmon at the Whitehorse Fish Ladder. Photo: Elizabeth MacDonald.
The Alaska Department of Fish and Game says the Chinook and Chum Salmon runs are late and forecast to be lower than projected.
Early returns from the Alaska Department of Fish and Game have this year's Yukon River Chinook and summer Chum runs coming in below average.
The department's Holly Carroll who is the summer season manager says both runs are late and there may be no harvestable Chinooks on the Alaska side.
"We are just now detecting the first pulse in the lower river so that's really quite late compared to normal," Carroll told the RUSH.
"Unfortunately, that means that for projecting the run it's rare late runs are good."
She says officials aren't sure why the run is late.
"These fish are living in the ocean for five or six years before they come back to their natal stream."
"Everything that they experience in the ocean is everything from the last five (or) six years to the immediate. Right now, we're waiting for favorable winds to blow those fish into the mouths of the river. We also have unseasonably high water."
Carroll says Canadian origin Chinook numbers look to be forecast below the 59,000 to 90,000 season projection.
She says Alaska has closed fishing for Chinook, while summer Chum fishing is open to those with selected gear only.