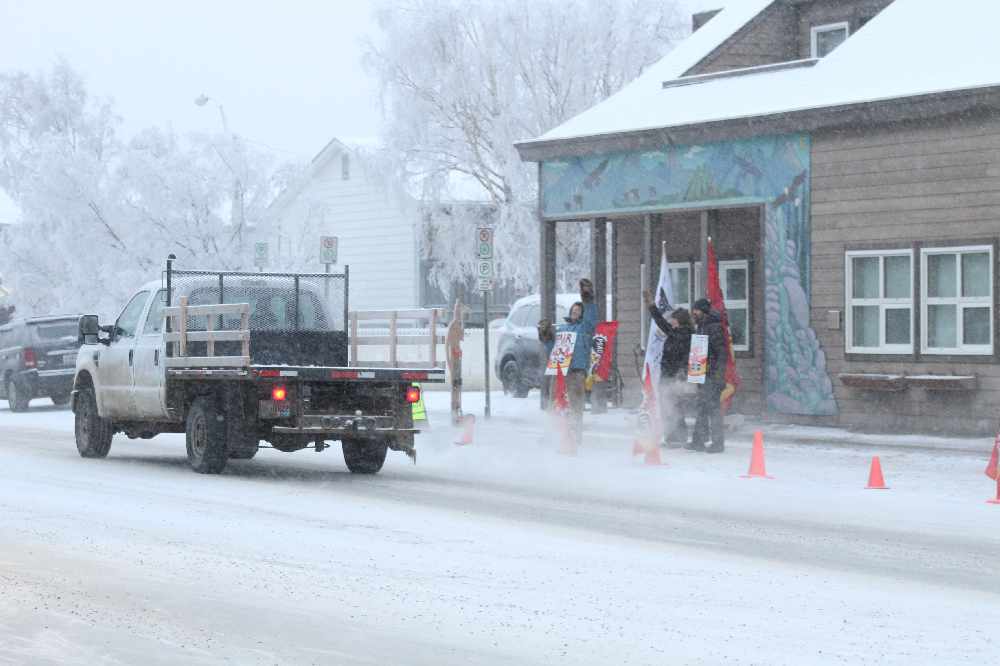 Many Rivers employees on the picket line Monday morning. Photo: John Kennedy/CKRW
The Yukon Employees Union says a recent effort to get back to the bargaining table with the board of Many Rivers Counselling and Support Services has failed.
Many Rivers Counselling and Support Services and the Yukon Employees' Union are still at odds as a strike drags into week 11.
A recent offer from a federally appointed conciliator aimed at bringing both the employer and the union to the table to discuss a potential contract has gone nowhere.
The employer was supposed to meet with the union over the span of three days, but Many Rivers instead informed YEU they were working on it.
Union President Steve Geick says the employer is clearly in no rush to get staff back to work.
"People are going without essential services that they need in the communities and in Whitehorse, and we've got twelve people walking the picket line last week at minus 30, and the board doesn't really seem to care about that," Geick told the RUSH during a visit to the picket line Monday morning.
Geick adds he is not sure what the board is doing to restore services and help their clients.
"They were here for three days, and we've been dealing with these same issues for two years, so it's beyond me why they say, 'no we can't come back to the table right now, we're working on it.'"
Geick says there are no clients coming through the door, and no staff schedules to manage, so he wonders what exactly the board and management been up to.