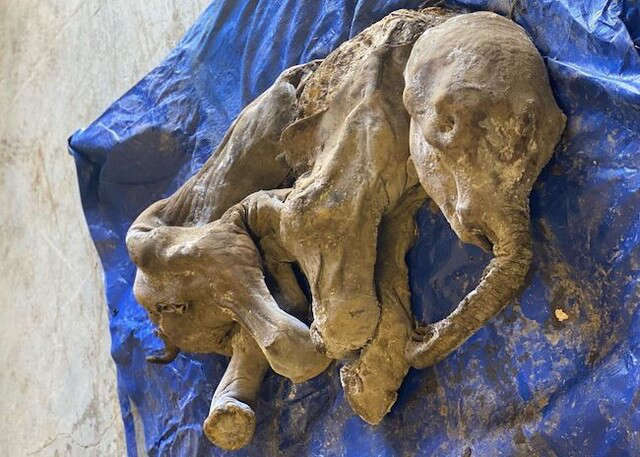 Photo: Government of Yukon and Tr'ondëk Hwëch'in
Miners excavating through permafrost in the Klondike Gold Fields have discovered the most complete baby mammoth in North America
YUKON - A complete baby woolly mammoth was found in the Klondike Gold Fields
Buried near the Tr'ondëk Hwëch'in Traditional Territory, miners working on Eureka Creek on June 21, 2022, uncovered the nearly complete frozen woolly mammoth while excavating through the permafrost.
This is a massive discovery for the Tr'ondëk Hwëch'in and the Government of Yukon as, the Yukon has a world-renowned ice age animal fossil record, and while mummified remains with skin and hair are uncommon, this mammoth is the most complete one yet unearthed in North America.
Tr'ondëk Hwëch'in Elders named the mammoth calf Nun cho ga, meaning "big baby animal" in the Han language.
Without the cooperation of Brian McCaughan of Treadstone Mining, Tr'ondek Hwech'in, and the Yukon government, this recovery would not have been possible. McCaughan says that this is a life highlight for him.
"There will be one thing that stands out in a person's entire life and I can guarantee you this is my one thing."
In the months to come, Tr'ondëk Hwëch'in and the Government of Yukon will work together to respectfully preserve and learn more about the baby.
Nun Cho Ga is thought to have perished and was preserved in permafrost for more than 30,000 years during the Ice Age, according to geologists from the Yukon Geological Survey and the University of Calgary who retrieved the frozen mammoth on the scene.