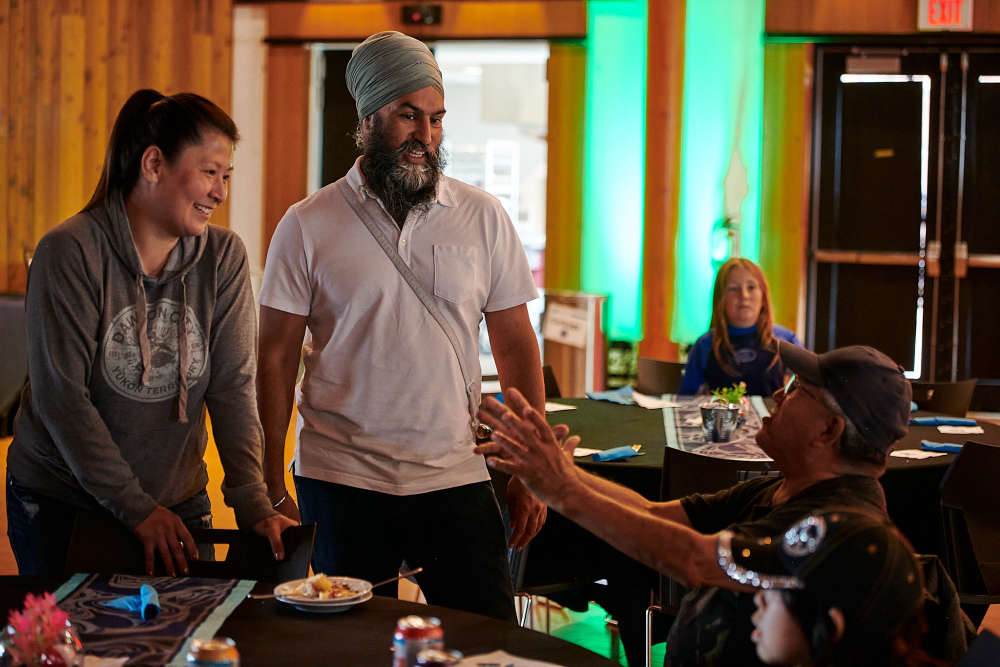 Yukon MLA Annie Blake (Left) and NDP MP Jagmeet Singh meeting with Yukoners at the Kwanlin dun Cultural Centre. Photo from Jagmeet Singh Twitter
Federal NDP Leader Jagmeet Singh has toured the Yukon to meet with businesses, families, groups of young people and various First Nations.
The Federal NDP Leader says he has had a chance to talk with many different Yukoners and get their perspective on the cost of living crisis.
Jagmeet Singh is in Whitehorse to meet with Yukon Leaders and First Nations from across the territory, and he says after speaking with various businesses, non-profit groups and Young Canadians, he knows that more needs to be done to get money back into the hands of the people
Singh says continued interest rate hikes may taper inflation on a national scale, but they won't solve the problem on the ground and that's why a more focused solution is needed.
"We know that one in four Canadians are putting back food at the grocery stores, they're not buying what they need and are going hungry. So the cost of living particularly when it comes to housing is only gonna get more challenging for people. If interest rates increase, it's going to make bill payments higher, it's going to make car payments and mortgage payments harder to make. So what we're proposing is, that there are a number of things we can do to actually help people right now, there are tools we can use to send money out to people to give them a little bit of relief. And we can do that in a way that does not trigger any increase in inflation."
When discussing solutions to the issue of rising costs in the north, Singh says he has been talking with locals about what they think will help them in the long run.
"One of the tools we have is to send money through the GST tax credit, there's been a windfall for the country. Because as inflation has gone up, it's meant that GST revenue has gone up, which means we can redistribute some of this revenue and send it out in the form of a larger GST tax credit that goes to working-class families."
Singh says his party will continue to honour the Confidence and Supply agreement that was put in place over four months ago, until a time when the Liberal Government of Canada fails to live up to the agreement.
Singh says the Liberal Government must own up to the many failures that Canadians are paying for.
"It is unimaginable in a country as wealthy as ours, that there are so many Canadians that are having to choose, do I pay my rent this month or buy groceries, the fact that that is a choice that people are having to make is an indictment of the Liberal government, and Justin Trudeau, who is failing to respond to the needs of people who are hurting right now."
Singh says he is working with his fellow MPs to find solutions.
"This is really important to me to be able to get people help. We're going to push as hard as we can and fight as hard as we can to get more help from this liberal government and make sure that they hear people out and deliver the help that people need."