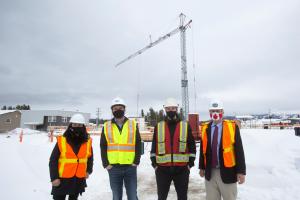 Normandy Manor is expected to be open by 2022. Photo: Government of Yukon.
The project is expected to be complete by 2022.
The Yukon Government is partnering with the Federal Government to bring affordable seniors housing to Whitehorse.
During this morning's virtual announcement, YG announced a funding contribution of up to $34.5 million dollars from the federal government, in addition to approximately $4.5 million from the Government of Yukon for an 84-unit supported housing development for seniors in Whitehorse.
Health and Social Services Minister Pauline Frost says the project, called Normandy Manor, will give seniors more options for housing, without entering continuing care.
"We know that elders in our community may face a time in their lives when upkeep and maintenance of their family home or rental housing is too much, or they require help with daily activities, but are not ready for continuing care. This will be an option. This, and many like this in the future."
Chief Operating Officer of Northern Vision Development Michael Hale says the project will provide baseline, non-medical services for its residents, while allowing seniors to have a social life, and maintain independence.
"We're building a community for people who may struggle to live on their own, but are not ready for true continuing care government-supported housing. We intend to build a community where Yukon seniors can have a social life, independence, and continue to engage in the broader Whitehorse and Yukon communities."
Construction on the project began in August of 2020 and is expected to be completed by 2022.