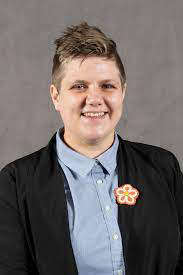 MLA Emily Tredger of the Yukon NDP
Climate Change Panel brings recommendations
The Yukon NDP is excited to hear the Yukon Climate Leadership Council has submitted a set of recommendations to accelerate the government's climate action to reduce greenhouse gases.
NDP MLA Emily Tredger says it's great news
"I'm very excited to see this report become reality. I mean the current or clean future plan doesn't even get us to 30%. Never mind 40% or 45%.
So we knew that we needed a better plan, which is why we negotiated for this. And I'm just so proud and grateful of all the work that these Yukoners have done to come up with a real plan to get us to 45% reductions.
Tredger said "I can tell you some of my favorites. One of them is about the government of Yukon's own buildings. Right now they've committed to reducing their emissions from their buildings by 30% and wants to increase that to 75%.
It has some ideas about how to do that in the context of a labor shortage. And I think that's really important because the government's in a position to be a leader. I think we can't just ask private companies and citizens to do this. The government has to lead. And so that's the way they could do it."
Environment Minister Nils Clarke says climate change is the biggest challenge of our generation.
He says the government is currently reviewing the recommendations of the council, and will help guide its efforts to reduce greenhouse gases by 45 per cent.