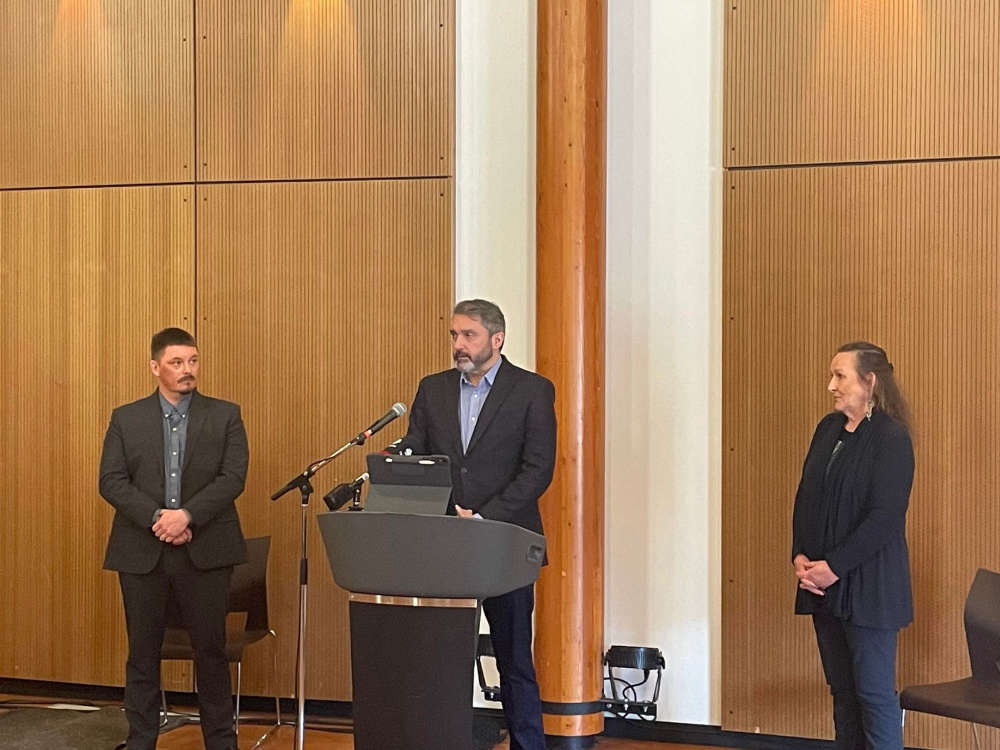 Photo: Curtis Geroux/CKRW Nunavut Premier Ageeagok, Yukon Premier Silver and Northwest Territories Cochrane
Northern Premiers came together today at the Kwanlin Dün Cultural Centre for the first in-person meeting since 2019 to discuss a wide range in topics.
WHITEHORSE - Northern Premiers got together today in Whitehorse for the first in-person meeting in over 2 years to discuss a wide range in topics.
Climate change, the housing crisis, public security, arctic sovereignty and health care were all on the agenda for yesterday's Northern Premiers Forum. Yukon Premier Sandy Silver was joined by Northwest Territories Premier, Caroline Cochrane and Nunavut's Premier P.J Ageeagok at the Kwanlin Dün Cultural Centre.
Premiers say they've committed to making sure residents of the north to a safe, secure and prosperous present and future.
Premier Silver says people are seeing dramatic changes to our environment due to climate change, and that leaders will work together to solve the issue.
"Yukoners and people living across the North are seeing the drastic impacts of climate change first hand. The Yukon is experiencing increased precipitation and more dramatic temperatures that are having an impact on our roads and our buildings throughout our communities. I urge the federal government to work collaboratively with territorial governments and Indigenous communities across the North to ensure we are prepared to address climate change and continue to support resilient communities.
The Northern Premiers' Forum has taken place every year with each territory getting a chance to host the event in rotation. Premier Silver is the Northern Premier Chair until December 2023, then, the Premier of the Northwest Territories will chair the Forum.