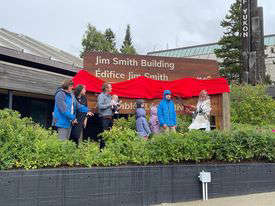 Photo: Curtis Geroux/CKRW
The Main Administration Building has a new name.
YUKON - The longest serving Commissioner in the Yukon was recognized for his contributions to the territory as, the Main Administration Building is renamed after him.
Former Commissioner, Jim Smith formed an executive council and a budget programming committee, relocated most departments to the Main Administration Building, and handled the changing of the Yukon Territory Council. His other achievements include the creation of Kluane National Park, the Chilkoot Trail historic site, the Arctic Winter Games, and his presidency of the Whitehorse Chamber of Commerce.
Deputy Premier Tracy-Anne McPhee, Yukon Commissioner Angélique Bernard, and Jim Smith's family members unveiled the new pieces and names to the building.
Smith's Daughter, Marilyn Smith says her dad worked hard to see structural change in territorial government.
"Dad had been involved in local politics from the time he first came north to and in 1940. And when my parents moved to wages in 1947 In addition to his role as an ambitious businessman, he was also President of the Chamber of Commerce, served as an alderman of the city of Whitehorse for two terms, and later was a member of the territorial Council"
Current Commissioner of the Government of Yukon, Angelique Bernard lists accomplishments of Smith.
"As the 26th Commissioner at a very important time in the development of the Yukon and the longest tenured commissioner from 1966 to 1976, Mr. Smith had a front row seat and played an active role in the discussions surrounding responsible government for the territory and the land claim process with Yukon's First Nations"
Premier of the Yukon, Sandy Silver commented saying Smith was a visionary Yukoner and his lasting contributions to the territory continue to have impacts.