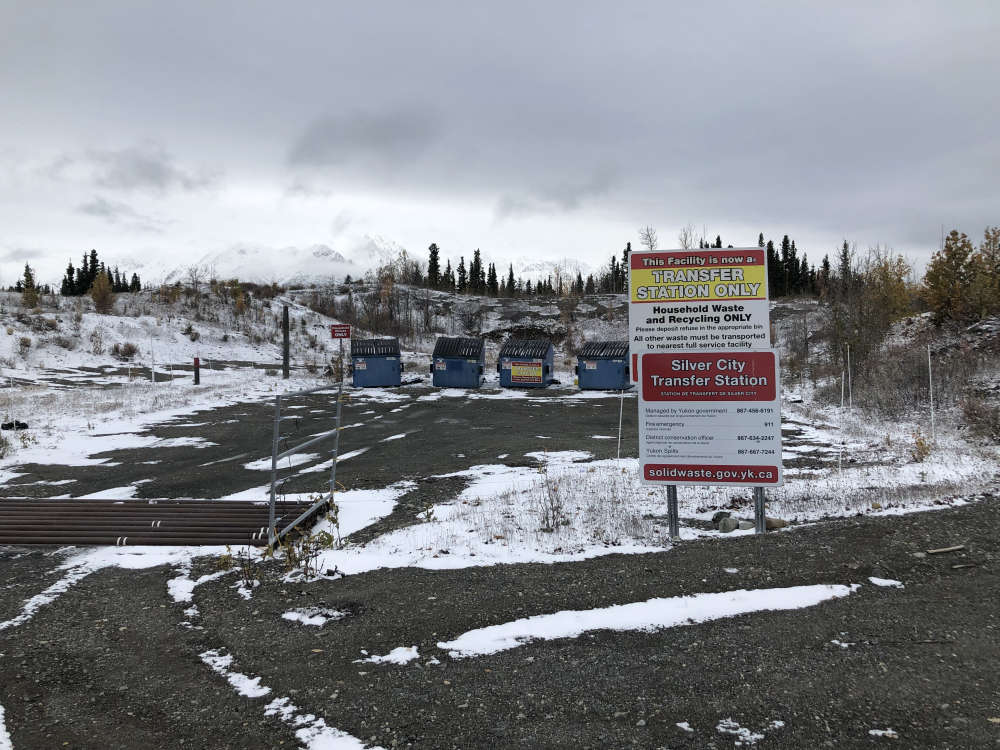 The Transfer Station at Silver City. Photo: Luke McGrath/CKRW.
The Yukon Government plans to close transfer stations in Silver City, Keno, Braeburn, and Johnson's Crossing.
A number of Yukoners in the Kluane Lake region have expressed their frustration to the Yukon Government regarding the planned closure of the Silver City Transfer Station.
A petition signed by residents of Destruction Bay, Silver City, and Burwash Landing calls for the transfer station to stay open, and for the government to stop plans to impose tipping fees at the Destruction Bay solid waste facility. As of Wednesday, the petition had 32 signatures.
The petition says that the residents deny the Yukon Government's assertion that these closures and fees are necessary for sustainability, to address environmental concerns, and to save money. Residents believe that small rural communities are being unfairly targeted in the government's regional waste management model.
Mostyn says the closures of four small transfer stations in the territory are a cost-pressure to encourage people to manage their waste.
"Garbage disposal is expensive. We want those generating the cost of the garbage to pay part of that cost, roughly a dollar a bag for residential waste."
Mostyn says the government is adopting a user-pay system that will be implemented in solid waste facilities across the territory. All facilities will be supervised and all will collect fees to keep the system fair to all Yukoners.
"The goal is to better manage our waste. We cannot have holes in a bucket, which is what those four unsupervised landfills represent. We have to close all gaps so that the system is fair, and that people who generate garbage pay a portion of the cost to get rid of it."
The Yukon Government plans to close transfer stations in Silver City, Keno, Braeburn, and Johnson's Crossing to help manage the territory's waste levels.
"They're all reasonably close to other landfills, where people living in those areas are going to have to drive. We're asking all Yukoners to do their part to reduce waste and dispose of it properly to protect the environment. If we keep those sites open and unsupervised, people will drive to dump their waste in those sites to avoid a tipping fee. Virtually every place in the country has gone to this model."
Yukon Party leader Currie Dixon says the Silver City site is clean and well-run, and he doesn't understand the government's rationale behind the closure.
"It's clean and well-maintained. It's a transfer station so there are no long-term impacts on the land. It's a well-run site. It's clean and tidy, and it serves the communities well. I don't know why they would close it.
A public meeting was held in Destruction Bay on Monday, where residents of the area expressed their concerns about the closures to Mostyn. Dixon was in attendance, along with Kluane MLA Wade Istchenko.
Kluane First Nation Chief Bob Dickson penned a letter to Mostyn, saying that KFN was not consulted on the proposed changes.
Mostyn says that there were two meetings in Destruction Bay where waste management was on the agenda, one in 2017 and one in 2019.
"To say that they were not consulted or spoken to prior to Monday's meeting is not true. This has been a news item for a long time."
Chief Dickson's letter goes on to say that the closure of the Silver City facility will lead to illegal dumping and burning of waste, and more human-wildlife conflicts.
The letter includes demands that the decision to impose tipping fees at the Burwash Landing transfer station be retracted, and asks for formal consultation between YG and KFN.
At the meeting, Mostyn did not provide a confirmed date for the closure of the four facilities.