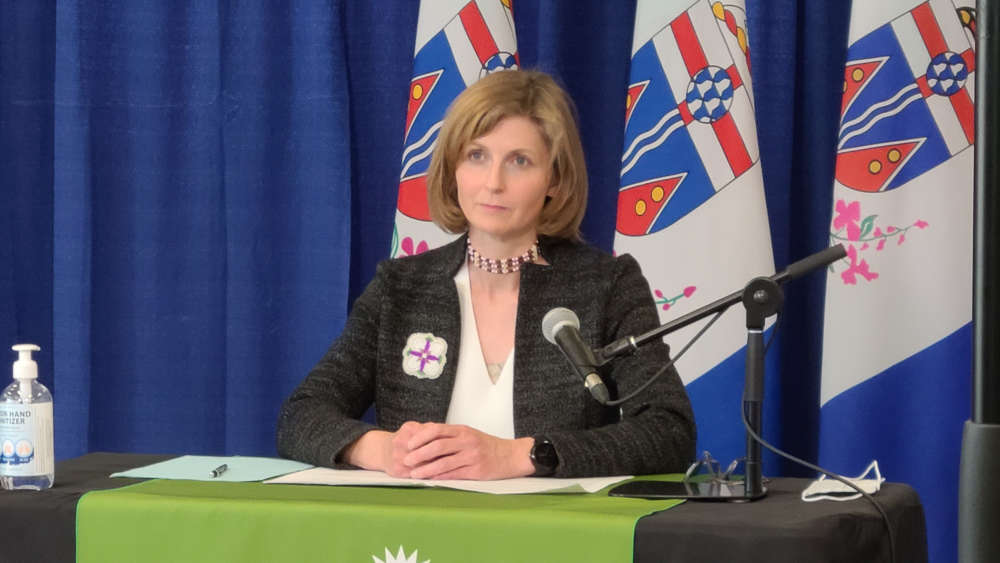 Dr. Cathrine Elliott says Yukon's case count is stabilizing with the number of active cases decreasing daily. Photo by John Kennedy / CKRW
The Yukon Government has announced that it plans to lift a few of the COVID-19 currently in place starting on August 4th, 2021.
The Yukon Government is lifting a few more restrictions as COVID-19 case counts continue to drop and vaccination rates remain high.
During Wednesday's COVID-19 update, acting Chief Medical Officer of Health Dr. Catherine Elliott announced that starting on August 4th, the requirement for people to self-isolate upon entry to the territory will be lifted, along with the requirement to wear masks in indoor public spaces and the requirement for physical distancing at bars and restaurants.
Elliott says establishments can, however, make their own rules on who does and does not have to wear a mask once the restrictions are lifted.
"Masks will not be required in indoor public spaces. What this means is that individuals, businesses, etcetera may take different means or measures, however, the requirement is removed altogether."
She says specific details will be released closer to the lift date.
Meanwhile, Community Services Minister Richard Mostyn pleaded to Yukoners who are hesitant about the COVID-19 vaccine, calling on them to take the plunge and get their shot.
"The vaccine is safe and it will prevent you from getting seriously ill through COVID. Not just you, but every single person who steps up and takes the shot is helping to protect their family, their friends and their neighbours."
Mostyn says the vaccine is Yukon's ticket to moving past the pandemic, especially after almost 17 months of health restrictions and multiple lockdowns.