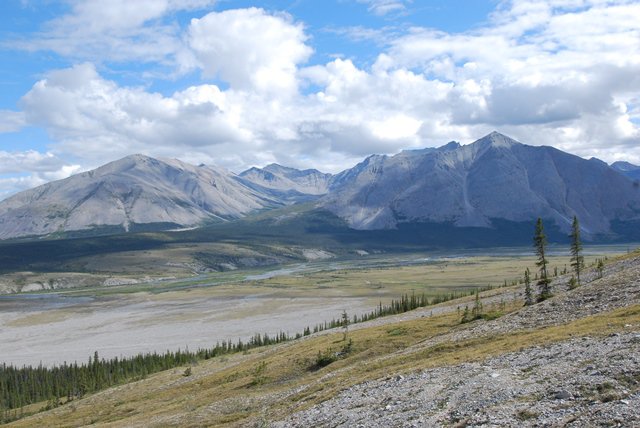 The Wind River located in the Peel Watershed. The SCOC says Yukon must move on a Final Recommended Plan, not a plan recommended earlier in the process. Photo: Jill Pangman
The high court changes most of a Court of Appeal ruling, meaning the government does not get a second chance to move through parts of Chapter 11 of the First Nations Umbrella Final Agreement.
The Supreme Court of Canada has overturned an appeal court decision that rolled back years of planning for the Peel Watershed.
The unanimous high court ruling Friday morning, a victory for First Nations and environmental groups, returns the process to the point where Yukon can approve, reject, or modify a Final Recommended Plan for the 68,000 square kilometre region.
This puts the process ahead of where the government could react to a recommended plan, essentially taking away a 'do over' for YG.
The Supreme Court also upholds a lower court ruling quashing a plan put forward by the government.
The court writes in its decision, the appeal court's approach was inconsistent with the appropriate role of the bench in a judicial review of modern treaty disputes, saying it should be making more clear-cut decisions, and not to access each party's compliance.
The high court writes Yukon must bear the consequences of its failure to diligently advance its interests and exercise its right to propose access and development modifications to the Recommended Plan.
The SCOC says Yukon's changes to the Final Recommended Plan did not respect the land use planning process in the Final Agreements and its conduct was not becoming of the honour of the Crown.
In 1993, Canada, Yukon and First Nations agreed on a consultative process for development of land-use plans in areas including the watershed.
The process led to creation of a recommended plan in late 2009, but the process later broke down when Yukon changed the plan over the objections of the First Nations, who argued the territory did not have authority to do so.
A trial judge ruled that Yukon had breached an agreement when it changed the plan, quashed Yukon's final land-use plan and ordered that the process return to the point of final consultations between the territory and First Nations.
The Court of Appeal upheld the trial judge's order to quash the government plan, but ordered that the process resume at an earlier stage, when Yukon first received the recommended plan.
First Nations and Environmental groups are set to react to the ruling at 10 am, while Yukon's premier and justice minister are scheduled to make a noon-hour statement.
(with copy from the Canadian Press)
(updated with quotes from ruling. 8:22 am and 10 am)
**This is a breaking story that will be updated throughout the day.**