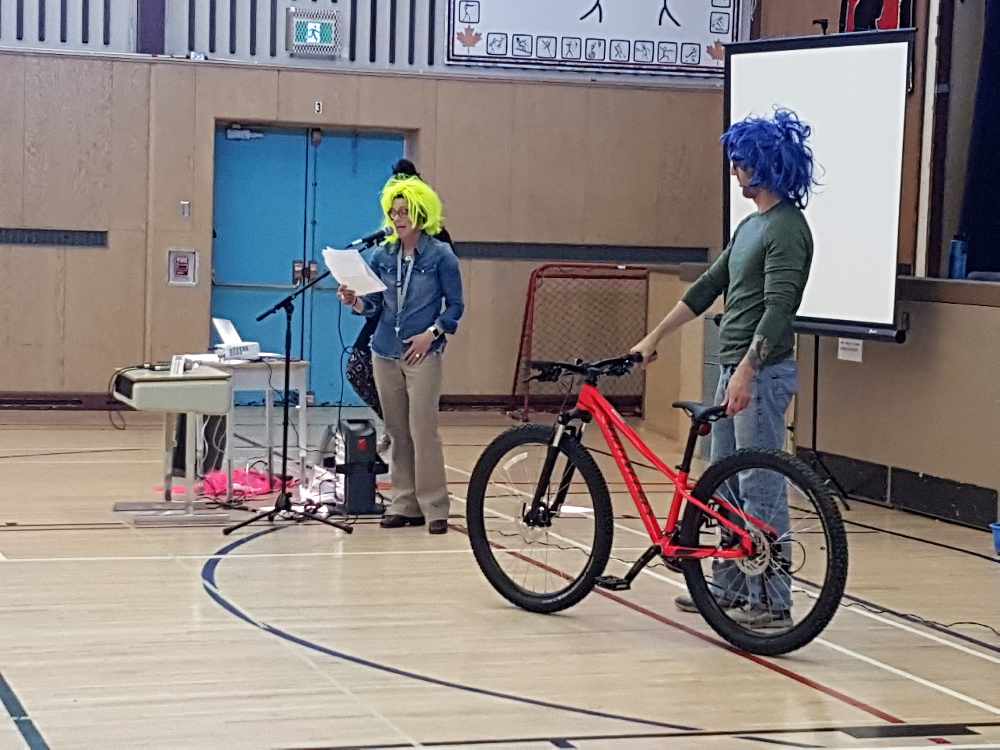 Takhini Elementary Vice-Principal Lisa Evans addresses a celebration assembly Monday morning. Photo: Tim Kucharuk/CKRW.
Schools in Whitehorse and Pelly Crossing were successful in their applications to the Specialized Foundation and their Ride for Focus program.
Two Yukon schools are the recipients of mountain bikes which are part of a program to study the effects of cycling on middle school students in Canada and the United States.
Takhini Elementary in Whitehorse and Eliza Van Bibber School in Pelly Crossing are getting mountain bikes from the Specialized Foundation as part of their Riding for Focus school program.
Takhini Vice-Principal Lisa Evans is a co-champion of the project.
"The program is actually researched-based, so we are committed for two years to actually collect data for the implementation of the program," Evans said. "We don't really have specifics yet as that is the next stage of what we are going to be doing."
Teacher Amanda Bartle is the program champion for Takhini Elementary and says they had to go through quite the application process.
"There was a list of at least 30 (multiple choice) questions, a couple of essays as well to write about how we are going to use it, why does our school deserve it," Bartle said after a celebration assembly Monday morning. "There's a bit of waiting time, then they said 'Ok. You've made it through the first phase, the second phase is now create a video with your students to say ok a little bit about what's your story.'"
Takhini Elementary will get 27 mountain bikes along with helmets, tools, kits and a program curriculum.
Evans, along with Bartle will travel to California in July for program training.
Bartle hopes to do some coordination with the Eliza Van Bibber School.
Only three schools in Canada were picked, with a total of 41 schools ending up as successful applicants including the U.S.
Takhini Elementary in #Whitehorse was pumped up at a celebration assembly Monday morning. It was announced the Specialized Foundation would grant the school 27 mountain bikes as part of the Riding for Focus school program. pic.twitter.com/u3WzA4J8EV

— Tim Kucharuk (@TimKucharuk) April 29, 2019