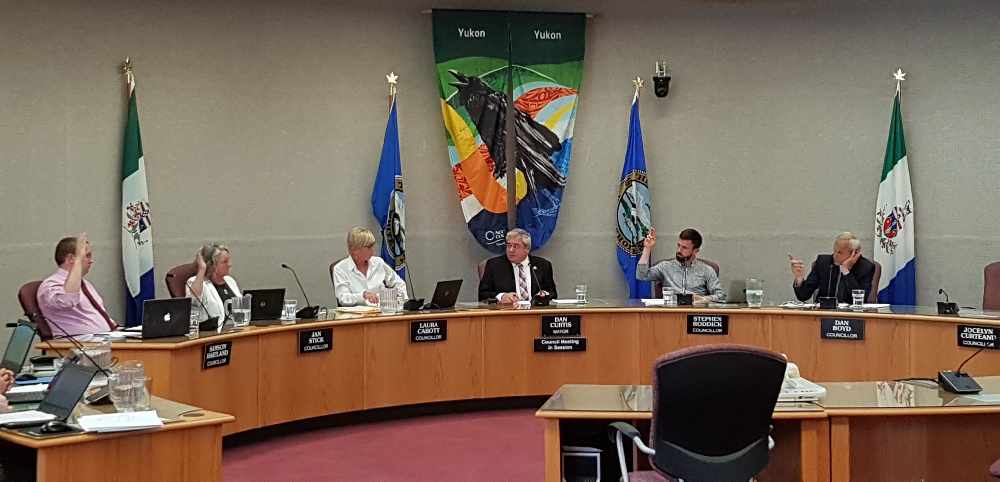 The vote to defer the Council and Administration Roundtable policy to administration. Photo: Tim Kucharuk/CKRW.
The new rules setting how council would meet with administration while scrapping the more open CASM process will get a further review.
A proposed City of Whitehorse policy which would prohibit the public from Council and Senior Management meetings is heading back to the drawing board.
At Monday night's regular meeting, council voted 4-2 to refer the Council and Administration Roundtable Policy back to administration for further study.
Originally, council directed administration to bring forward the new policy to address previous shortcomings under the Municipal Act. Councillor Samson Hartland says the policy should align with the act, but not shut out the public.
"I think we can implement a (Council and Administration Roundtable) policy," Hartland said. "Be it separate from the (Council and Senior Management) policy that we have right now, or in conjunction with the CASM policy if it was to be clean it up. But either way, we should take a little more time and think about this a little more carefully and find a way to incorporate the public into the city's day-to-day issues."
Councillor Laura Cabott says the older Council and Senior Managment policy does work under the act if followed.
"I think if we actually followed the CASM, we would be in line with the Municipal Act," said Cabott. "We would be following municipal good governance, we would be meeting the needs of council and administration, and we would be transparent." Cabott said.
Mayor Dan Curtis went further and suggested the policy be shelved outright if the public is uncomfortable. Curtis and Cabott were the only councillors to vote against the motion to defer.
Prior to the vote, former Councillor Mike Gladish spoke against the new policy, saying it would give the perception of council pulling the wool over the public's eyes.
He added both policies could be kept as part of council's toolbox, but the new CAR policy needs more clarity.
Besides the public, the new policy would have kept media from attending and reporting on the council meetings with administration. A total of nine media members were at Monday's meeting in a working and observation capacity.