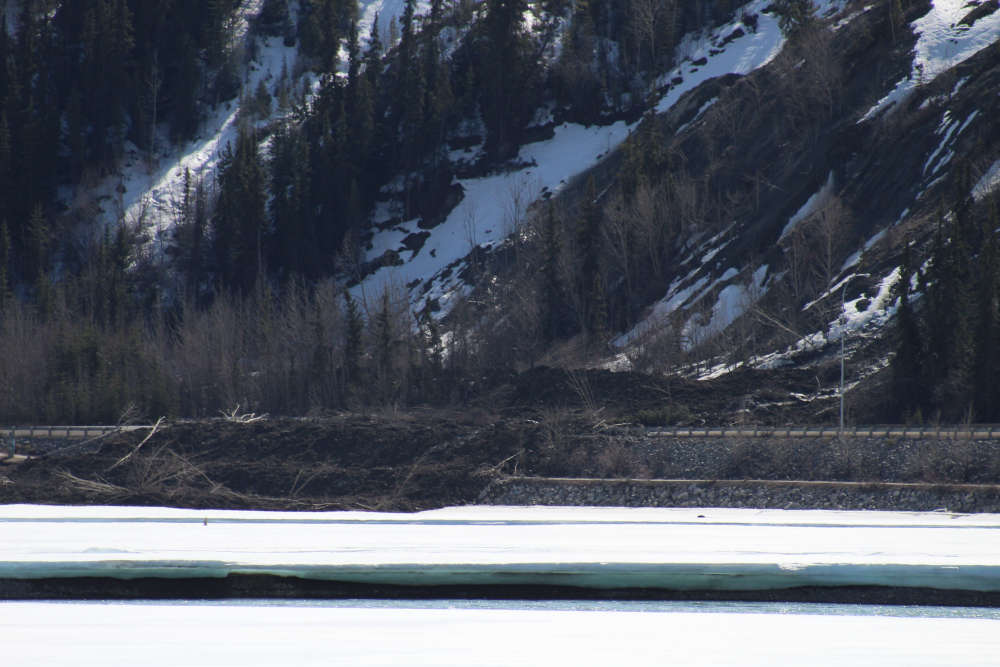 Photo: John Kennedy/CKRW
Clean up of the land slide begins next week on Robert Service Way in hopes traffic can flow through in early June.
WHITEHORSE - Construction and removal of the debris from the escarpment slide along Robert Service Way now have a starting date.
The clean-up project of the escarpment slide will begin next Wednesday or Thursday, with the safety of construction crews in mind. Upon completion, traffic will be able to flow along Robert Service Way but, with the help of traffic control.
Construction completion is subject to changes as the escarpment continues to show lots of activity including tensions cracks and flowing water.
Director of Operations, Tracey Allen explains how long construction could take.
"We're hoping to get in Wednesday or Thursday to start the cleanup and start putting in the sheet piling along the area where this light occurred so that is going to take probably the cleanup should take no more than a day day and a half at most depending on the complexities of how we approach it with the river and what we pull out"
Mayor, Laura Cabott says we haven't seen the worst of the slide.
"Our technical experts say that we really probably have not seen the worst of the situation here that will continue to be active that there will continue to be sloughing we'll probably see some more activity along the slope"
The past couple days, the city has expanded the fenced and closed-off perimeter. This is to help make sure no properties can get damaged from the possible impacts.
The City of Whitehorse continues to monitor for activity on the escarpment slide along with geotechnical engineers. Updates will continue to be given when possible.