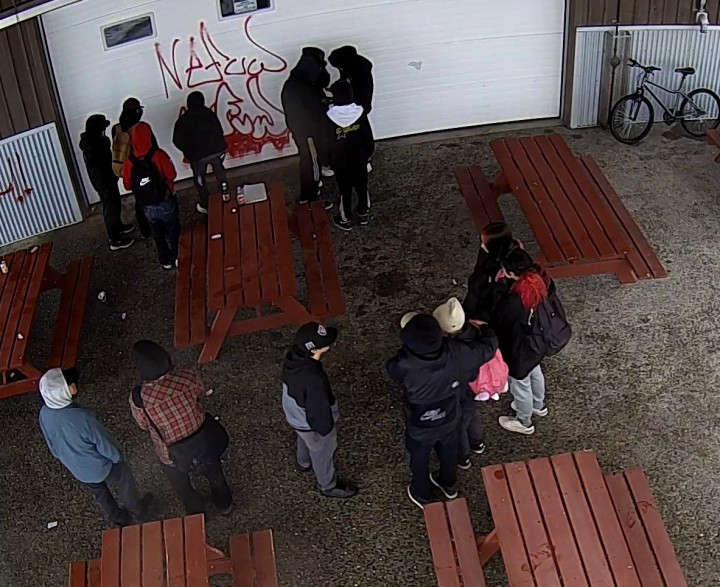 Photo: Courtesy of Whitehorse RCMP
Following the vandalism of a park facility, the Whitehorse RCMP and the City of Whitehorse Parks and Recreation department are asking for the public's assistance in identifying those responsible
WHITEHORSE - After a facility at a local park was recently vandalized, RCMP and the City of Whitehorse Parks and Recreation department are seeking the public's help in identifying those responsible.
According to CCTV footage, between April 19 and 21, 2023, a group of around 15 persons went to Shipyards Park with spray paint cans and did extensive damage to the doors and walls of the Frank Slim Building's loading dock.
Sergeant Dustin Grant of the Whitehorse RCMP says "Actions like this are really disappointing to see."
The City of Whitehorse has just initiated a graffiti awareness campaign, in which residents can participate. Report graffiti on the City of Whitehorse website using the Engage Whitehorse link. The data gathered will be used to influence enforcement operations and future initiatives to combat graffiti in our city.
Police ask that anyone who can identify a person/people in the photos call police directly for further follow-up and investigation, by calling 867 667 5551. To remain anonymous, please contact Crime Stoppers via phone at 867-667-6715 or online at www.crimestoppersyukon.ca.