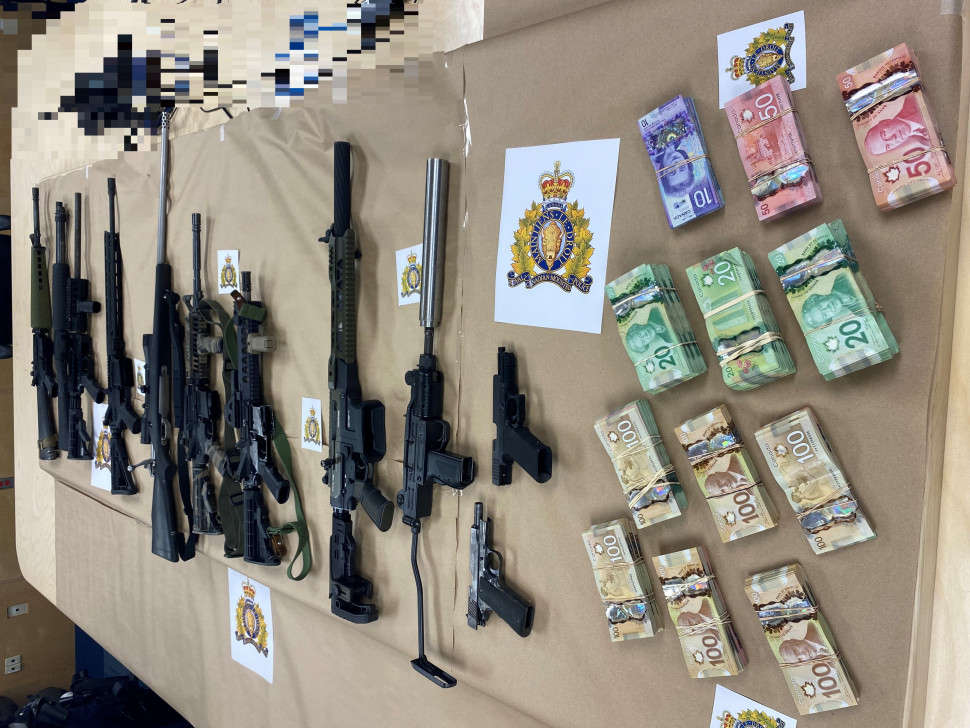 Photo: Courtesy of Yukon RCMP
Taylor Duke is facing a slew of additional charges just a week after being arrested.
WHITEHORSE - Just a week after being out in handcuffs, Taylor Duke is now facing a new string of charges.
Whitehorse RCMP performed a search warrant on the morning of August 24, 2023, in the Takhini Hot Springs Road area. This investigation was in relation to a shoot in early July 2023.
The investigation and reaction were carried out by members of the Whitehorse Detachment General Investigation Section, the Yukon RCMP Crime Reduction Unit, the Emergency Reaction Team, and Police Dog Services. To guarantee the safety of everybody concerned, we were assisted by the G Division (Northwest Territories RCMP ERT), K Division (Alberta ERT), and Yukon EMS.
Duke has been illegally at large since December 2022 due to his failure to appear in court on earlier charges. He had previously been accused of crimes committed between October 2021 and June 2022 and freed from detention with several conditions that he failed to meet, including attending court sessions and not possessing guns. Since then, the Yukon RCMP has made major efforts to apprehend Mr. Duke.
The RCMP's reaction was planned and executed to guarantee the safety of everyone involved and the success of the search warrant due to the history of violence and suspected unlawful possession of guns.
As a result, Taylor Duke was arrested without incident and appeared in court on August 24th for 25 charges, including the new charges of:
- Attempted Murder with a Firearm, Criminal Code, Section 239 (1);
- Unauthorized Possession of a Firearm, Criminal Code, Section 92 (1);
- Disobeying a Court Order, Criminal Code, Section 117.01; and
- Carrying a Firearm in a Motor Vehicle, Criminal Code, Section 94.
- During the search of the residence, attending officers located:
11 firearms including:
- AR-15 Carbine Rifle .556 Cal
- AM-15 Carbine Rifle .223 Cal
- PA-15 Carbine Rifle .223 Cal
- Stag 10 Carbine Rifle .308 Cal
- Action Arms UZI with suppressor 9MM
- Llama Max-1 Handgun .45 ACP
- Glock 17 9MM
- JR Carbine Rifle .45 Cal
- Weatherby Mark-V Rifle .30-378 Cal
- MK 12 - 12 Gauge Shotgun
- Escort - 12 Gauge Shotgun
Along with the firearms, various types of ammunition and high-capacity magazines were also seized.
RCMP also seized a slew of narcotics in the arrest:
- 663 tablets of Alprazolam "otherwise known as Xanax"
- 1594.5 grams or 1.5 KG of cocaine
- 127.21 grams of fentanyl
- 636.65 Grams of heroin
- 7.38 grams of methamphetamine
- 551.12 grams of an unknown white powder, believed to be superbuff
- 325 unknown capsules (Yellow, White and Clear in color)
On top of the firearms, ammo, and drugs police seized $163,887.65 in cash.
RCMP says investigations continue and Duke may be charged with further offences.
"Whitehorse, and the Yukon as a whole, is not exempt from the reach of organized crime. The RCMP is committed to safe homes and safe communities for all Yukoners and Canadians, which is why combatting organized crime is one of our strategic priorities as an organization, and is included in the Yukon Minister of Justice's 2023 Policing Priorities for RCMP," says Supt. Lindsay Ellis, the Officer in Charge of Yukon RCMP's Criminal Operations.
She added that this exposes the real danger that the Yukon faces.
"Just the guns and drugs seized from this one residence demonstrate the real danger that is hiding in our communities. Substance use in communities goes hand-in-hand with drug trafficking and organized crime. We continue to have concerns surrounding opportunities for predatory drug traffickers who could exploit the vulnerable and the dangers that organized crime inherently brings."