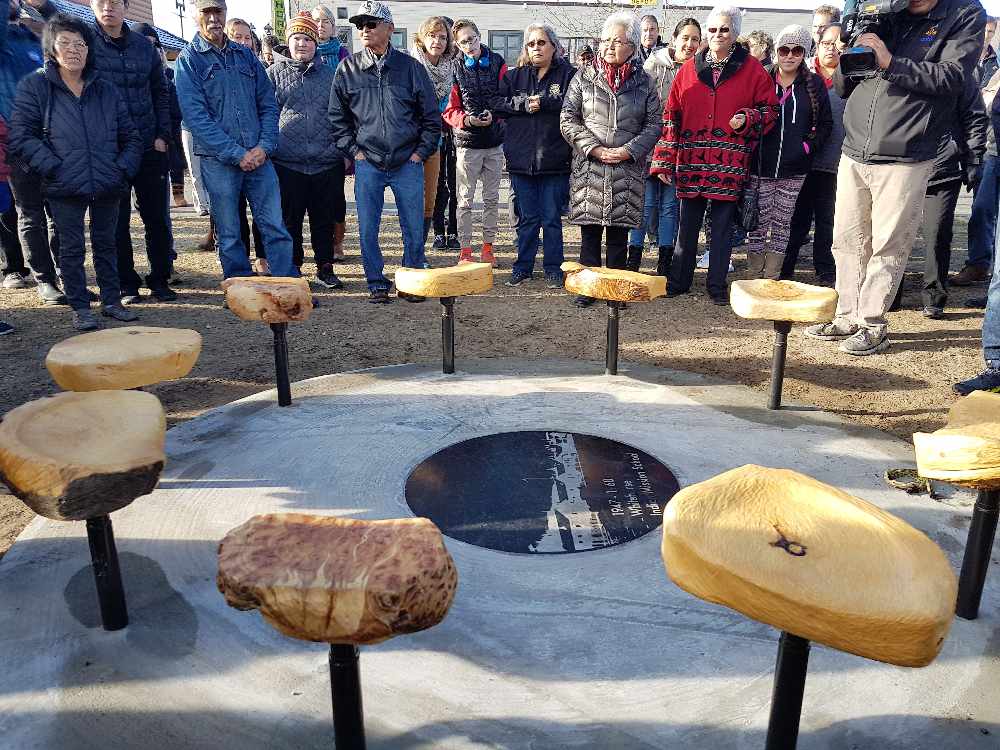 Survivors of the Whitehorse Indian Mission School gather around the waterfront monument after Thursday's unveiling. Photo: Tim Kucharuk/CKRW.
A monument and book launch on Thursday honours students and families of the Whitehorse Indian Mission School.
A new monument is now located on the Whitehorse Waterfront honouring those affected by the Whitehorse Indian Mission School.
The noon hour unveiling Thursday attracted over 80 people to see nine wooden stools placed in a circle by the wharf unveiled--each representing the nine Yukon First Nation languages.
The project was spurred by the the Whitehorse Aboriginal Women's Circle, and Vice-President Adeline Webber told those gathered, the monument is a testament to students and survivors.
"This monument is about remembering and sharing and talking about our memories whether they are good or bad." an emotional Webber said.
"It is a testament to our resilience, and an important symbol of reconciliation. The students who attended this school became a family. We continue to support one another today."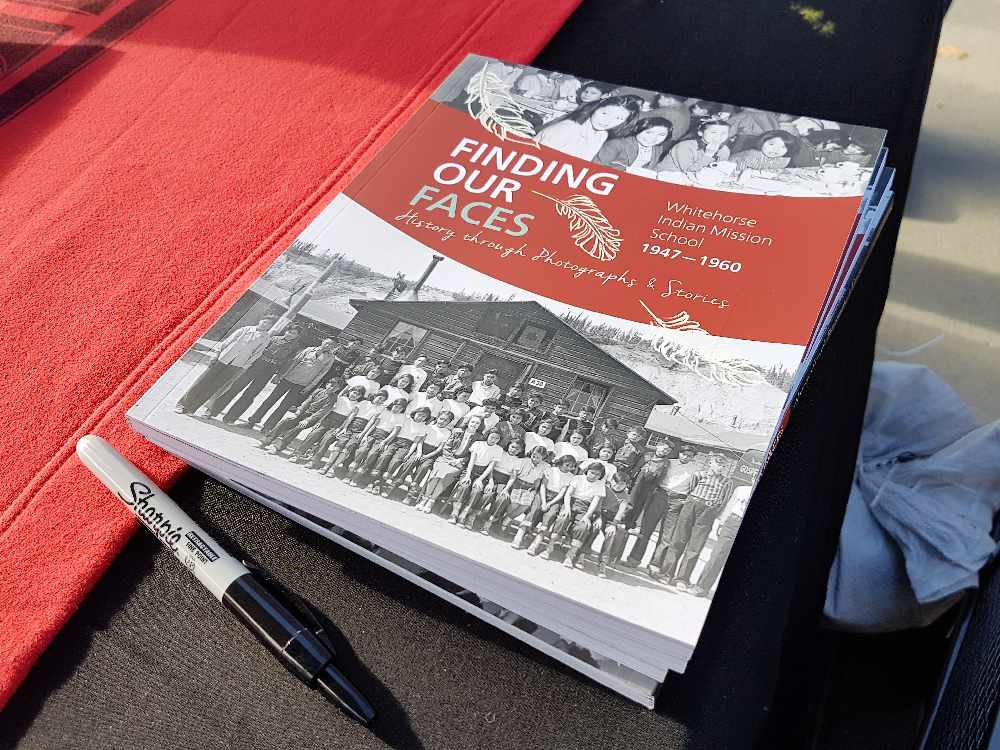 Local Artist Ken Anderson designed and constructed the monument, and says it was good to work with the Whitehorse Aboriginal Women's Circle on the project.
"The inspiration was the different language groups that actually went to that school. There's nine different language groups, so there's nine different stools." Anderson said.
"There's one space that's open for people to come into the circle who weren't part of those nine different groups. It invites everybody into it, and for them to consider, and to think about that a little bit."
The second edition of the Finding Our Faces and History through Photographs and Stories was also released during Thursday's event. (Book photo: Tim Kucharuk/CKRW)
It focuses on telling the stories of students who went to the school between 1947 and 1960.
A monument to honour students and families who attended the #Whitehorse Indian Mission School is now on display adjacent to the warf on the waterfront. pic.twitter.com/WpGWAzMgvK

— Tim Kucharuk (@TimKucharuk) October 11, 2018