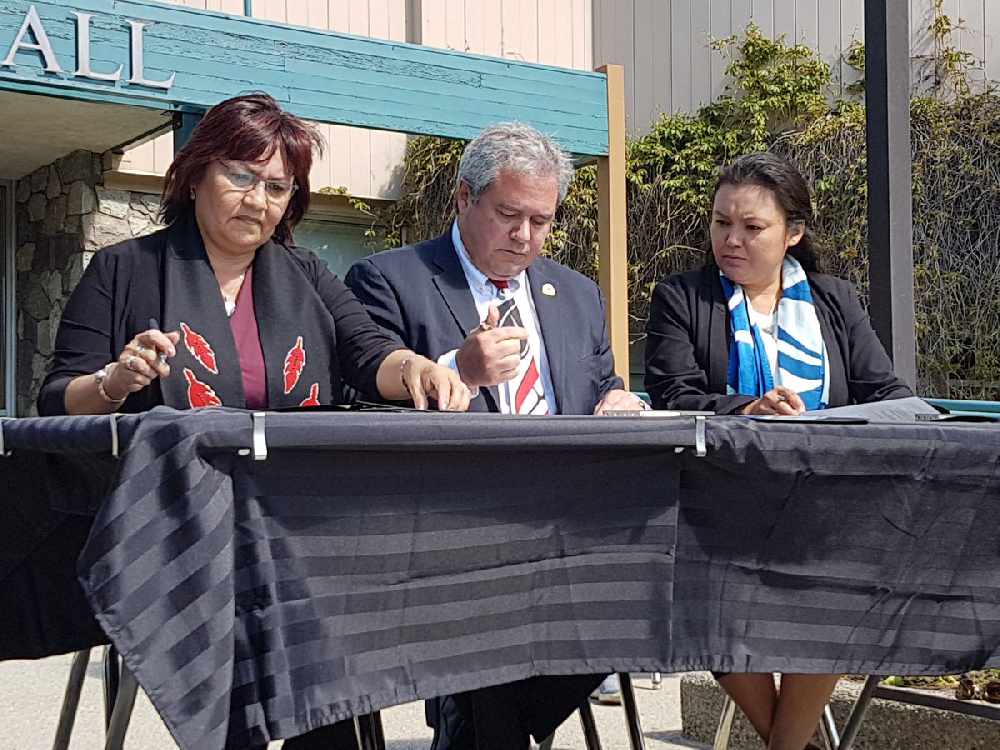 Left to Right; Kwanlin Dün First Nation Chief Doris Bill, Whitehorse Mayor Dan Curtis, Ta'an Kwäch'än Chief Kristina Kane. Photo: Tim Kucharuk/CKRW
The Commitment Declaration agreement is the first of its kind in Yukon and pledges that all three governments work together in all areas of governance.
The City of Whitehorse, Kwanlin Dün First Nation, and Ta'an Kwäch'än Council are marking a historic day.
During an unveiling of a bus wrap project featuring First Nations artwork at city hall Tuesday afternoon, the three signed a Commitment Declaration agreement which is the first of its kind in the territory.
Mayor Dan Curtis says the collaboration agreement, which pledges the three to work together in all areas of governance, social and economic ties, is a benchmark for future generations.
"I think our future generations, with any luck, will look back at these leaders you see at the table right now and acknowledge the courage that they had to acknowledge the fact that we need to better as a community of Yukon. Not individuals. Not one government. Not one person, and that's what Chief Bill and Chief Kane have taught me, that we can do this but we have to do it together."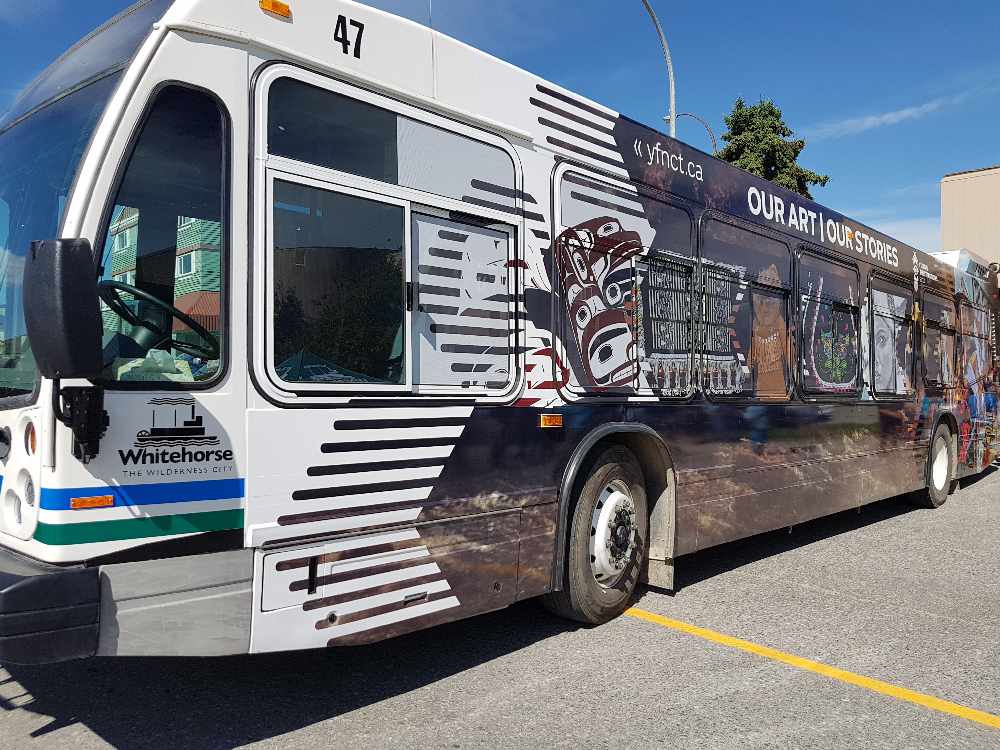 KDFN Chief Doris Bill says the First Nations and city share a common history, and the bus wrap project is a symbol of their relationship.
"Such as any relationship, it will take work to maintain it and we will have our ups and downs. We are committed to building abetter future together for generations to come."
TKC Chief Kristina Kane says the bus wrap, which also included the First Nations Culture and Tourism Association, makes a strong statement, and as government relationships evolve, it's important First Nations are treated as equals.
(Right: A photo of the city's newly wrapped bus featuring First Nations artwork. Photo: Tim Kucharuk/CKRW)
.@KDFN Councillor Sean Smith explains what First Nations artwork is on the @city_whitehorse bus wrap. pic.twitter.com/9Ur8o15wac

— Tim Kucharuk (@TimKucharuk) June 19, 2018