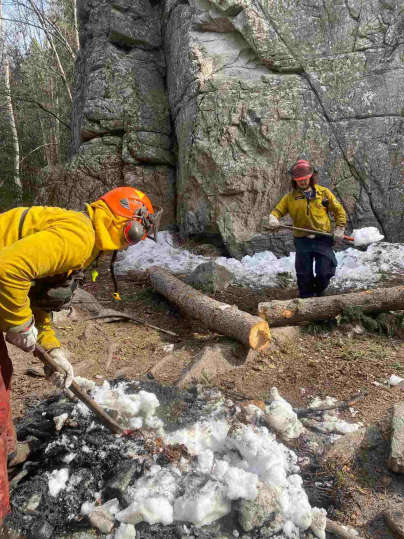 Yukon Wildland Fire Crews extinguishing a fire. Photo provided by Yukon Protective Services
Yukon Wildland Fire Management says they have already tackled 3 human-caused fires so far this season.
The wildfire season has begun in the Yukon according to Yukon Wildland Fire Management.
Fire Information Officer Haley Ritchie says there were three human-caused fires over the weekend, two on Saturday.
One of the fires was located near Elijah Smith Elementary School and a second in the Rock Gardens trail area.
"Both of those appear to be small campfires that were started which are not allowed without a burn pit permit or an approved fire pit to have a fire. And so both of those were small and immediately dealt with by our crews."
Ritchie says the third was a small grass fire near Watson Lake.
"The fire was located between Watson Lake and upper Liard and that was a grass fire that started and spread fairly quickly. Our crews took care of it. It did end up growing to two hectares and mop up continued on Monday."
Ritchie says it's important to remember that it only takes a couple of warm days to dry out the forest enough for fires to become a severe risk.