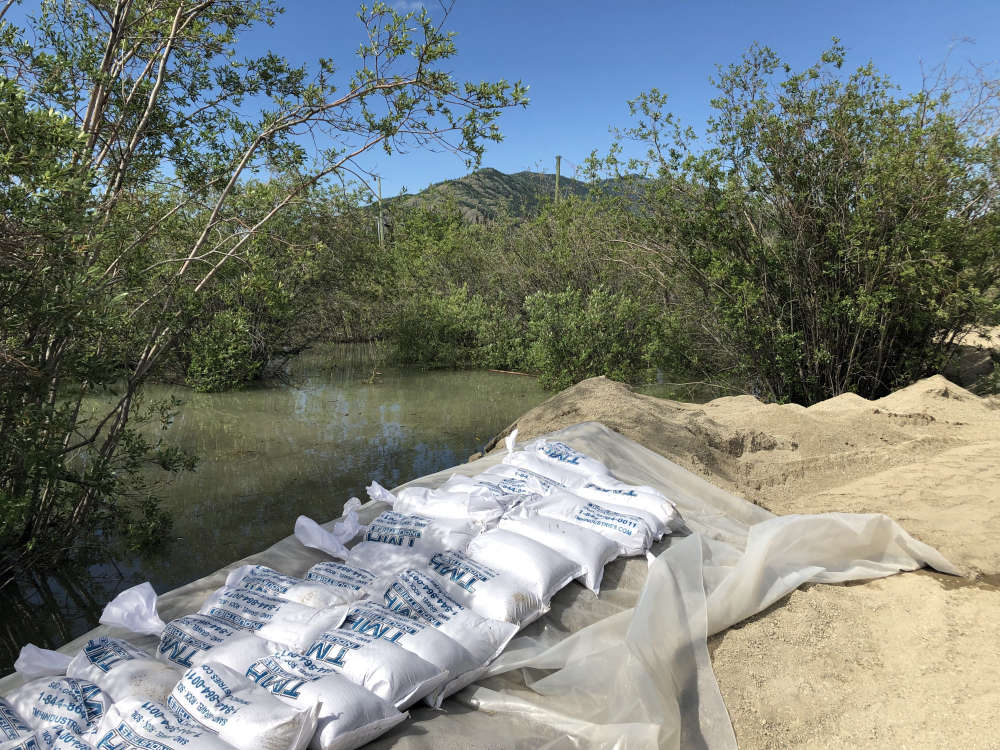 Sandbagging efforts have been ongoing across the Southern Lakes Region and Lake Laberge area for several weeks. Photo by Luke McGrath / CKRW
The Yukon Government has declared a state of emergency in response to the unprecedented flooding across Yukon's Southern Lakes region.
The Yukon Government has officially declared a state of emergency under the Civil Emergency Measures Act in response to the rapidly changing situations in the Southern Lakes Region.
The emergency order also encompasses the Lake Laberge area, a zone that has also experienced abnormally high floodwaters.
Residents affected by the flooding have been setting up sandbags along their property's perimeter and nearby shorelines to mitigate flood damages, but waters have continued to rise.
A State of Emergency order gives the Government of Yukon the ability to act quickly and utilize CEMA powers needed to protect residents and their homes. The Government has utilized the CEMA orders to combat the COVID-19 pandemic similarly.
Community Services Richard Mostyn says the state of emergency will be in effect for 90 days and can be cancelled at any time.
"The Government of Yukon has mounted the largest flood relief effort in Yukon's history to deal with unprecedented water levels. The declaration of this state of emergency provides us (YG) with the ability to provide effective and timely responses to those individuals who need our assistance the most. We are aware that this is a stressful time for all Yukoners, particularly those directly impacted by the current flood situation. We want to reassure those residents we will do everything we can to continue providing all the support we can to you in the coming weeks."
Water levels in Marsh Lake, Lake Laberge, Bennet Lake and Tagish Lake have all surpassed historic 2007 flood levels, promoting the Federal Government to respond to the escalating crisis with military support.
More than 60 Government of Yukon personnel have been deployed to assist local officials with the flooding across Yukon's Southern Lakes Region.
Flood specialists from Manitoba and Saskatchewan and approximately 100 members of the Canadian Armed Forces have flown to Yukon to assist local volunteers and emergency workers with response efforts.
More information regarding evacuation procedures and what residents should be aware of can be found here.