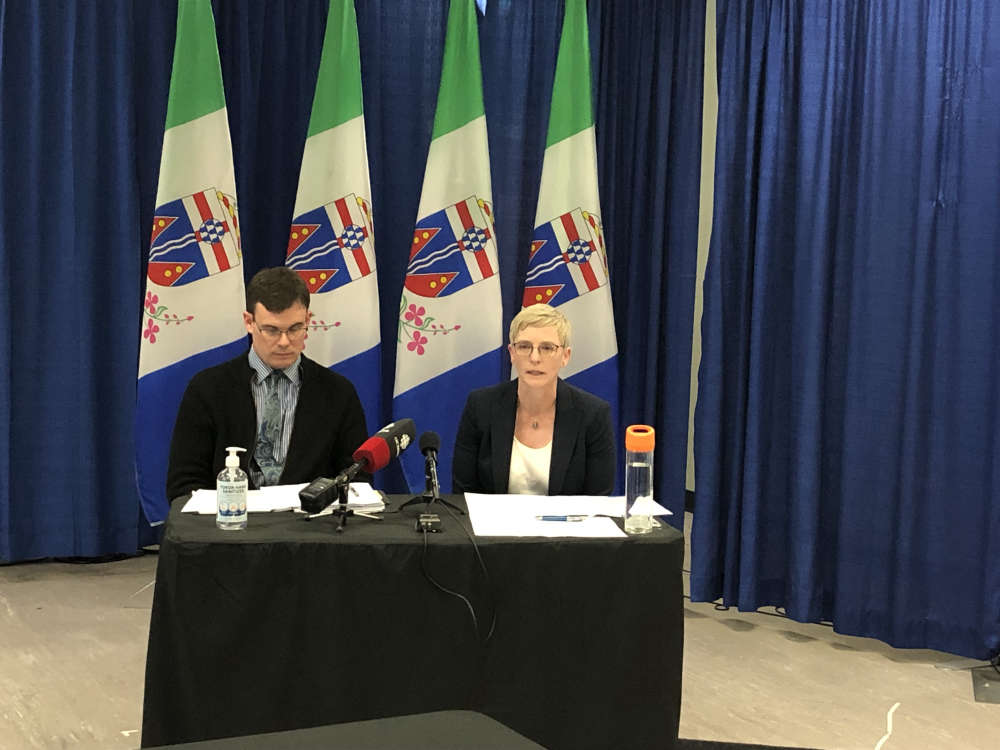 Assistant Deputy Minister Ryan Sikkes and Deputy Minister of Education Nicole Morgan. Photo: Luke McGrath
Both the RCMP and the Department of Education apologized to the families affected.
The Yukon Government and Yukon RCMP held a joint press conference Thursday morning to apologize for their handling of a sexual assault investigation at Hidden Valley Elementary School in Whitehorse.
Deputy Minister of Education Nicole Morgan acknowledged that the incident, where a former educational assistant at the school was charged with multiple sexual abuse offenses of a student, should have never happened.
Morgan says she heard clearly from families at a meeting held last night that the department had failed the families of those involved.
"The Department of Education fully acknowledges that the trust of families at Hidden Valley School was broken, and there are ripple effects in our community more broadly. We will take the steps needed to work together, and rebuild the trust of the school and the community."
Yukon RCMP Chief Superintendent Scott Shephard said the RCMP should have done better and continued investigating for other students that may have been victimized prior to the arrest of the EA in 2019.
"While I am relieved that we were able to prevent any further offenses from occurring once we became involved in this manner, we shoulder the responsibility along with the department of education for not having independently followed up in a thorough manner."
The RCMP issued a press release on September 10th, saying the former EA had been charged with the following:
Sexual Exploitation of a person with a Disability contrary to Section 153.1(1) of the Criminal Code
Sexual Assault contrary to Section 271 of the Criminal Code
Sexual Interference contrary to Section 151 of the Criminal Code
Invitation to Sexual Touching contrary to Section 152 of the Criminal Code
The man appeared in court in Whitehorse on September 10th.
Lake Laberge MLA Brad Cathers says he felt the apology from the Yukon Government and the RCMP was a good first step in taking accountability for the incident.
"It was a step in the right direction. Of course, parents, as well as the general public will be looking for follow through on the commitments made by the department and the RCMP."
Cathers did however acknowledge that Education Minister Jeanie McLean did not attend yesterday's briefing.
"The Minister sent department staff to the press conference, but this is a very serious matter, and parents do want to hear an apology from the Minister herself. When the government is apologizing for a very serious failing, it's important that the Minister actually show up."
Morgan said that the minister was unavailable yesterday, but did attend a meeting with parents of Hidden Valley students on Wednesday evening.