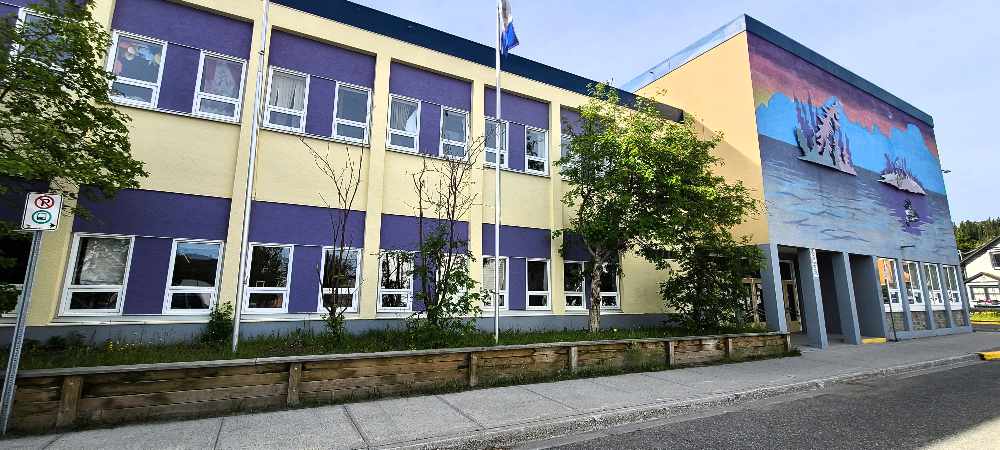 The Wood Street Centre. Photo: Tim Kucharuk/CKRW.
The association representing school councils, parents, and students say there was a lack of consultation; the education department says the plan is in flux.
The Association of Yukon School Councils, Boards and Committees wishes the Yukon Government's COVID-19 education plan for the upcoming school year had been rolled out differently.
Chair Sandra Henderson says while there were a number of meetings with the department and minister prior to the July 9th announcement, they found out the details at the same time as the public.
She says the consultation has not been great.
"We complement the department for putting out a survey," Henderson told the RUSH.
"However, the survey would have been better put out during the last school year in June, rather than in July."
Henderson hopes the government takes the parents and students concerns seriously and revamp their plan somewhat.
She says it would have taken considerable dollars and hiring of staff to come up with a different space and teaching allotment.
The plan for the 2020-2021 school year released July 9th has the Music, Arts, and Drama program relocating from the Wood Street Centre to Porter Creek Secondary, grade eights would move from F.H. Collins to Wood Street, and grades 10 to 12 would attend in-person classes part-time.
This would be in place for at least the first semester.
Parents and students held protests outside the education building and the legislative assembly last week over the plan. They say it will have wide-ranging effects on student education.
Department Reaction
Yukon's education department says the plan regarding the upcoming school year was drawn up during the preliminary planning process with the affected principals of the high schools involved.
Assistant Deputy Minister of K to 12 Schools and Student Services David Wipf says decisions were made to meet health and safety guidelines while providing consistent programming.
"We're continuing with the planning process for the 20-21 school year," Wipf said.
"It is an ongoing process. Central administration staff are supporting school principals and school staff to finalize their operational plans and programming for the school year."
Wipf says the department will use information from a recent survey to help with future planning.
"We're still in the process of deciphering all of the data that's been provided," he said.
"That information will be provided, and I don't know the exact date but we want to do that as soon as possible."
He says there are weekly meetings with school council chairs, the Association of Yukon School Councils, Boards and Committees, the Catholic School Board, and First Nations.