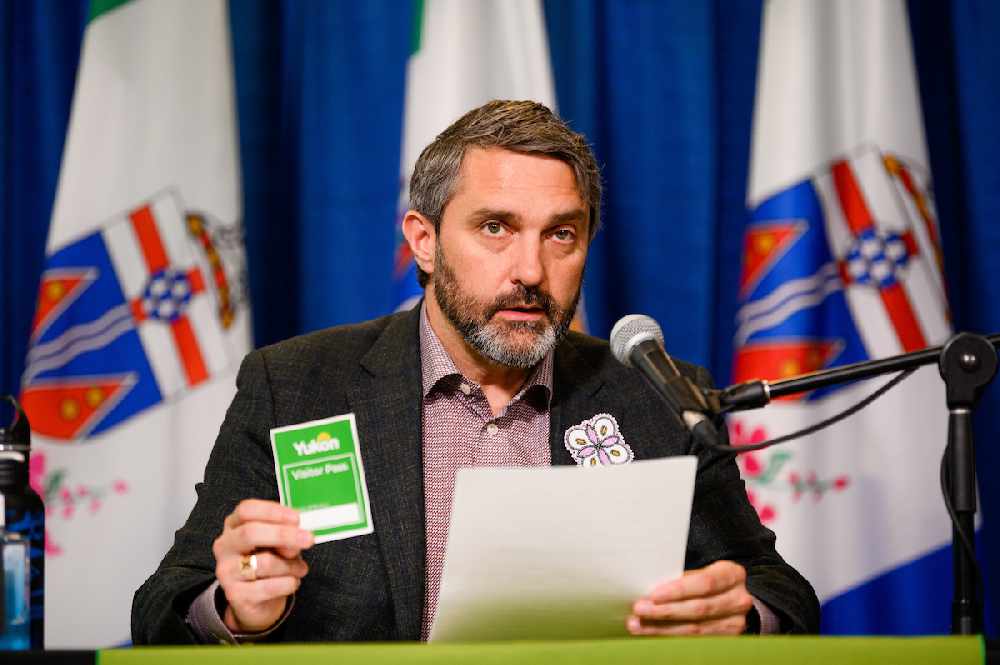 Premier Sandy Silver shows off the decal that will be given to those with out-of-territory plates for display in their vehicle. Photo: Alistair Maitland/Yukon Government.
Both the premier and chief medical officer of health say as Yukon moves to phase three those from other Canadian jurisdictions outside the current bubble will continue to self-isolate for 14 days.
While Yukon is on track to move to phase three of the territory's re-opening plan on August 1st, the Chief Medical Officer of Health says that will not include opening the territory to other Canadian jurisdictions.
Dr. Brendan Hanley told Wednesday's COVID-19 briefing he's not comfortable in relaxing the 14-day self-isolating requirement for everyone except those from B.C., the Northwest Territories, and Nunavut.
"I'm not comfortable with the numbers I'm seeing nor with the level of risk that exists for us to remove that requirement for self-isolation," Hanley said.
"We're watching a few other jurisdictions and given what we are presently seeing in B.C., we need to take a few more weeks to get a better picture on which way the trends are going."
Hanley says those who have recently returned from B.C. should limit their social activities, especially if they have returned from Kelowna.
He noted young people should also remain cautious and not let their guard down.
Premier Sandy Silver says phase three changes are being considered to expand family bubbles, gatherings, and plan a return to sports.
Right now, outdoor gatherings are limited to 50 people, and indoor ones can have a maximum of 10. Families can include another household in a double-bubble.
Silver also showed off a decal that will be provided to those with out-of-territory plates who have met the requirements to travel in Yukon.
He also joined a call from B.C. Premier John Horgan for the federal government to tighten up border enforcement measures at the Canada-U.S. border. Silver does say there have been no new cases from Americans travelling through the territory.
Yukon's official COVID count has been bumped to 13 with the two Yukoners who tested positive in another province.
Hanley says both are doing well.
(With reporting by John Kennedy.)
Hanley has a message for youth and all Yukoners. pic.twitter.com/lPxfUtpVOe

— Tim Kucharuk (@TimKucharuk) July 22, 2020