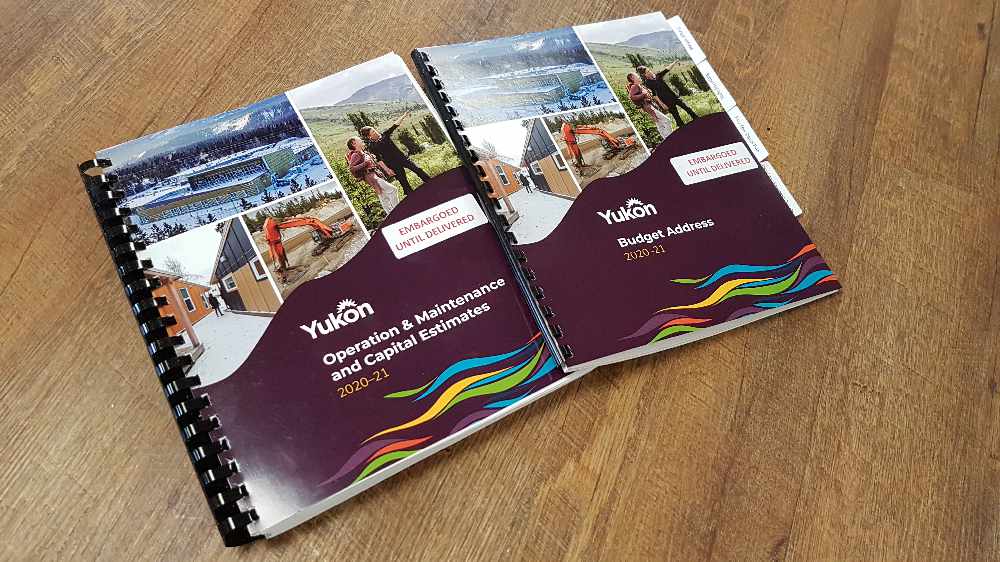 The 2020-2021 territorial budget package. Photo: Tim Kucharuk/CKRW.
A projected surplus, increase in capital spending, and elimination of the small business tax are part of the $1.6 billion budget tabled in the Legislative Assembly Thursday afternoon.
For the first time in two years, the Yukon Government is projecting a surplus budget.
Premier and Finance Minister Sandy Silver delivered the 2020-2021 budget in the Legislative Assembly Thursday afternoon, which comes in at $1.62 billion. It contains a projected $4.1 million budget surplus.
Silver says this balanced budget builds on Yukon's recent progress and once again puts Yukoners first.
"For the past three years, our government has been working hard to put Yukon's finance on a sustainable path and create an environment for Yukon's people and economy to thrive." Silver told the house.
"This year's budget is not about flash, it is about substance. It continues our work to serve all Yukoners and build the foundation for an even stronger future for the people of this territory."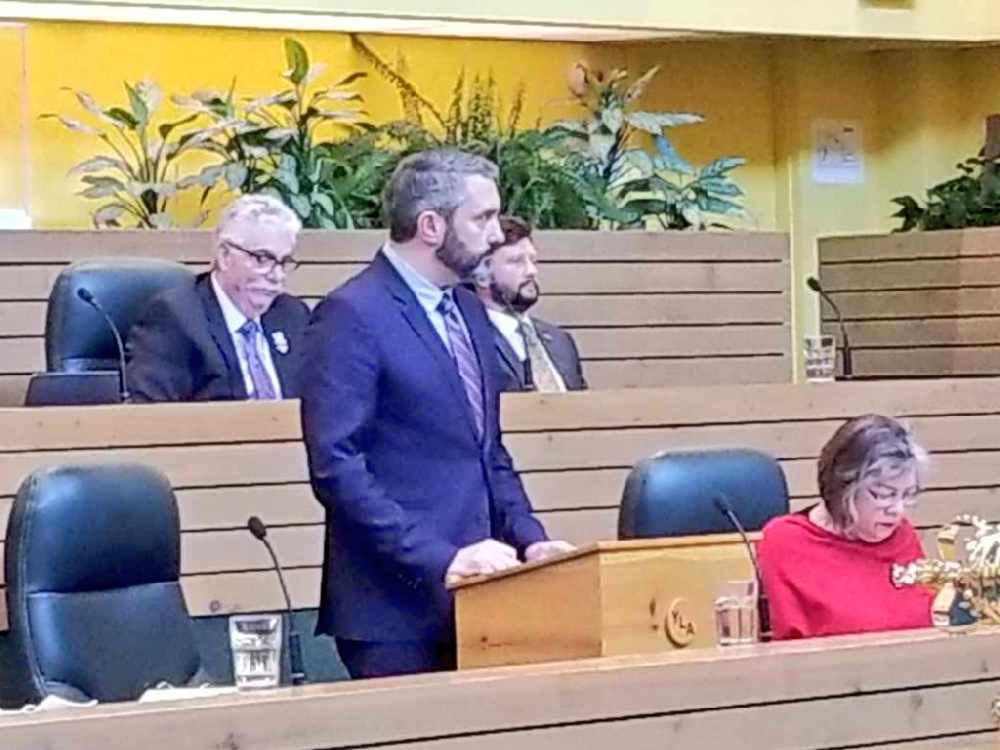 (Premier and Finance Minister Sandy Silver delivers the budget speech. Photo: John Kennedy/CKRW.)
$1.16 billion or 85 percent of the budget is coming from federal transfers.
The budget eliminates the small business tax saving businesses $2 million per year. Any loss of revenue is offset by increasing the insurance premium tax big insurance companies pay for doing business in the territory. That rate is rising to four percent.
The Supplementary Estimates for 2019-2020 released alongside the budget show a projected deficit of $18.6 million. The higher than projected deficit figure is due to the costs of fighting forest fires, and bringing the Whitehorse Emergency Shelter into the government fold.
Capital Spending
The capital budget is up by $81 million from last year to $369.7 million.
Spending includes investments in housing, supporting Yukon's diverse economy, promoting health and wellbeing, investing in a clean future. Education, health, and infrastructure spending are also part of the budget.
There's funding for lot development, recreational activities, climate change adaptation, and highway safety improvements.
$27 million is going toward lot development, with over 200 created in the Whistle Bend area of Whitehorse alone.
The Kwanlin Dun First Nation is getting a community hub, and there's money to complete the Carmacks arena and FH Collins track and field projects.
The Wildland Fire budget is being increased to $21.6 million to deal with more intense fire seasons.
$23 million will be spent this upcoming year on the Dempster Fibre Line, as the three-year $80 million project is expected to begin in 2021.
$10.6 million has also been set aside for Alaska Highway Improvements in Whitehorse.
The budget also contains a five-year capital plan, which contains $2.01 billion in expenditures through to 2024-25.
Department Budgets
Health and Social Services lead the way in department spending at $461 million, followed by Highways and Public Works at $308 million.
Education and Community Services come in at $217 million each. All other departments are $79 million or lower. Elections Yukon is the smallest at $549,000.
Carbon Pricing
We're getting a look at carbon pricing revenue, as $5.2 million was projected to be collected as of March 31st, with the government forecasting $16.3 million in revenue for the upcoming budget year.
The government has stated all revenue would be returned to Yukoners, businesses, municipalities and First Nations. The first rebates went out last October. Municipalities and First Nations will get their first rebates in April.
The budget, which also contained a fiscal and economic outlook, was adjourned at second reading for debate.
Some comments from @Premier_Silver after the budget release Thursday afternoon. Speaking to $21.6 million for Wildland Fire, he says the money isn't just for fighting fires. #ytpoli pic.twitter.com/cIldAdPJzK

— Tim Kucharuk (@TimKucharuk) March 6, 2020