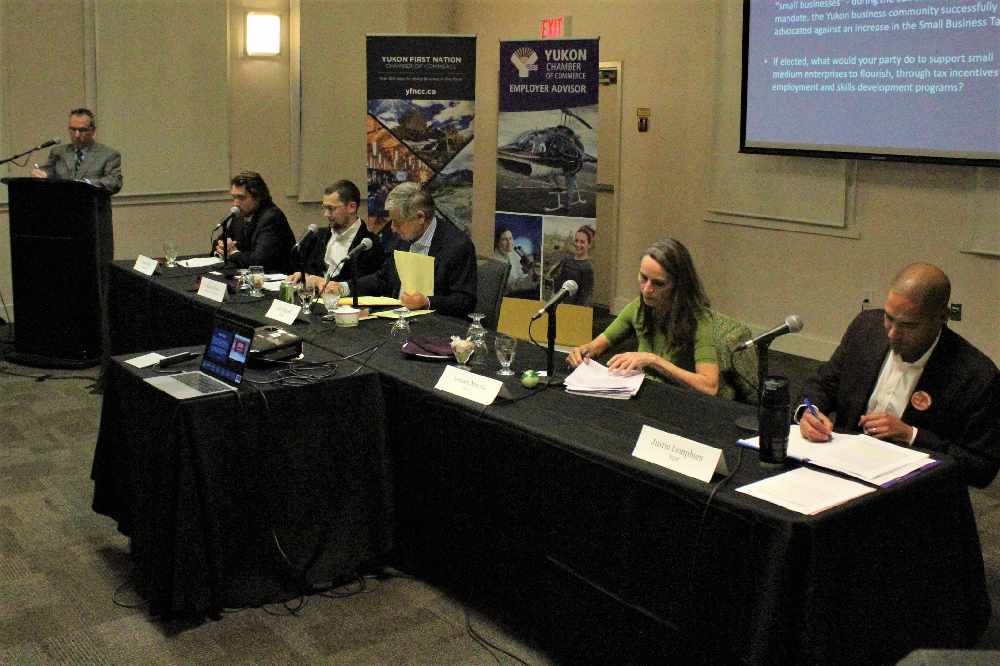 FEDERAL FOCUS: Yukon's candidates were seen diving deep into their notes in between questions. By John Kennedy / CKRW
The five candidates running to be Yukon's next member of parliament are tackling issues surrounding business and tourism.
Tuesday night's All-candidates business forum heard questions about issues such as mineral investment, small business advocacy, and skills development programs.
When asked how they would foster economic development while still reducing Greenhouse gas levels, the N-D-P's Justin Lemphers told the over 60 people gathers his party would form a Canadian Climate Bank allowing for a transition off fossil fuel-dependent energy.
"We're also looking at creating a framework for enshrining community benefits and agreements in federally funded infrastructure projects so that public money is put to it's best possible use by creating local economic opportunities and building support from local communities to meet the climate goals."
Conservative Jonas Smith says he has been advocating for increased Hydro-capacity for the entirety of his campaign.
"I mean we could all swap out our diesel furnaces for electric baseboards and all buy electric cars tomorrow, but if we have to power those with fossil fuels, then in my mind it's all for not."
People's Party candidate Joseph Zelezny says there isn't a way to foster both economic development and reduce greenhouse gasses, while the Green Party's Lenore Morris says it's simple to deal with greenhouse gasses by transitioning to renewable sources of energy.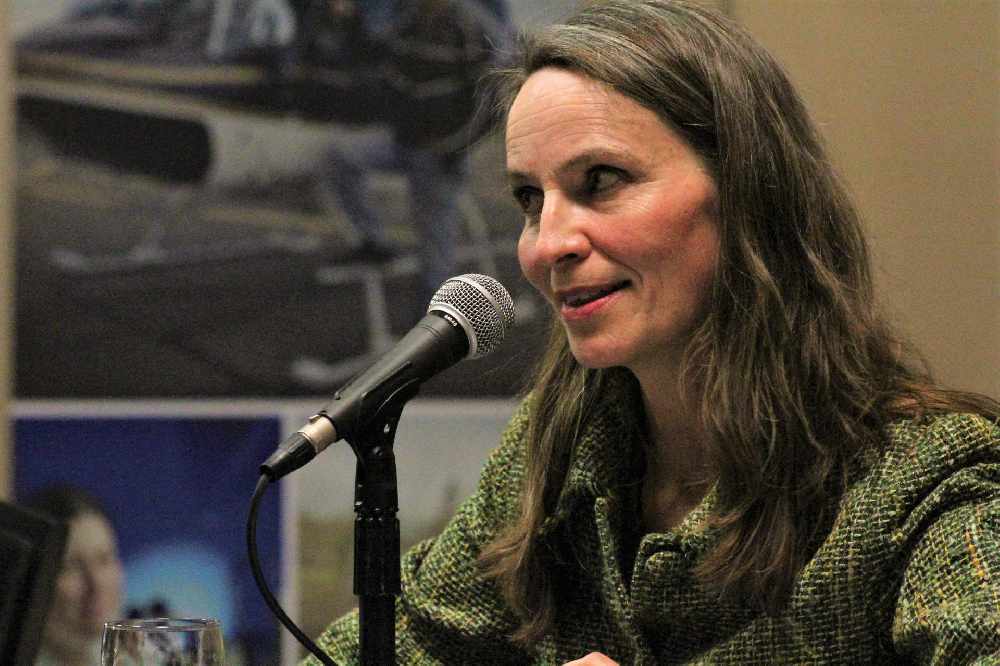 PHOTO: Green candidate Lenore Morris spoke about her experience running a business at Tuesday night's forum. By John Kennedy / CKRW
Liberal incumbent Larry Bagnell says he would continue to advocate for green energy projects, citing a number of past liberal party successes.
When asked how they would enhance immigration programs to help combat a worker shortage, Bagnell says his government has already put a number of supports in place.
"We just did a new pilot project for the north for the Yukon nominee program; before they could only work for one employer. So in Dawson, if that employer closed for the summer, they'd have to go back to their country. Now nominees can work for 3 employers or 3 separate jobs for one employer if they'd like."
Zelezny says the current recruitment programs aren't bringing enough skilled workers.
"Only 25% of primary applicants, not including their family members, are coming here with skills that are necessary for our economy and the PPC want's to increase that number to 50%."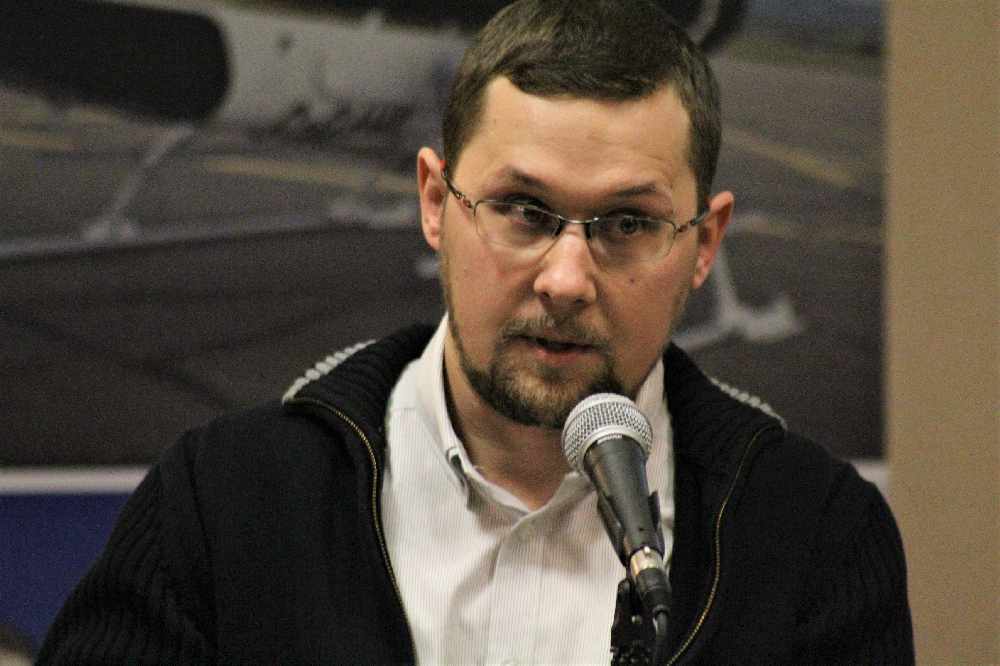 PHOTO: The People's Party Of Canada's Joseph Zelezny spoke about his party's plans for immigration recruitment. By John Kennedy / CKRW
Morris says proper supports need to be in place for immigrants to ensure they settle in the Yukon with ease, while NDP Candidate Justin Lemphers says his party supports targeted recruitment, investing in supported work programs in Yukon and Canada,
Smith says his party isn't going to get into a bidding war with how many immigrants they would bring in, but instead focus on economic recruitment programs which target workers with skills important to the economy.
The RUSH's Senior News Reporter Tim Kucharuk moderated the debate, ensuring candidates stuck to the timeframes given for each question.
CKRW The RUSH will be covering the Federal Election Live on Monday, October 21st with results as they arrive starting when the polls close at 7 P.M. PST.