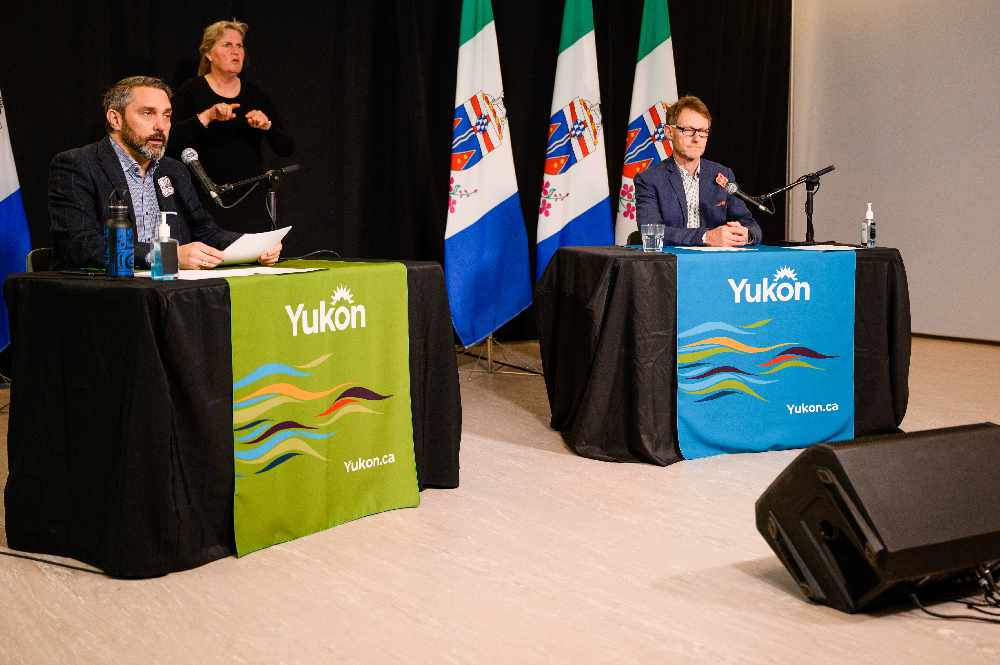 Premier Sandy Silver (Left) and Dr. Brendan Hanley (Right) providing an update on COVID-19 in Yukon. Photo by Alistair Maitland Photography
As of June 17th, 1,245 people have been tested, with no new cases reported.
The Yukon Government is easing more restrictions around the territory as Yukon prepares to enter phase 2 of re-opening.
During Wednesday afternoon's COVID-19 update, Premier Sandy Silver highlighted some of the changes set to take effect on July 1st.
"Restaurants will once again be permitted to operate at full capacity, outdoor social gatherings of up to 50 people will be allowed and dentists will be allowed to resume non-urgent and routine care."
Silver also announced that guidelines have now been created and released for the operation of fitness centres, gyms and Public libraries throughout Yukon.
Chief Medical officer of Health Dr. Brendan Hanley says the territory is still on track to move to phase 2 and says as of July 1st, outdoor gatherings in Yukon may have up to 50 people in attendance with physical distancing guidelines in place.
Hanley says practicing the safe six is vital to ensuring Yukoners stay healthy.
"When we talk about flu prevention, I often find myself saying that no matter how imperfect, the vaccine is the best prevention. However we also always stress handwashing and staying home when sick is vitally important measures as well."
He says Yukon's planned re-opening of the border into B.C. is being looked at carefully, with guidelines being developed for B.C. residents visiting Yukon.