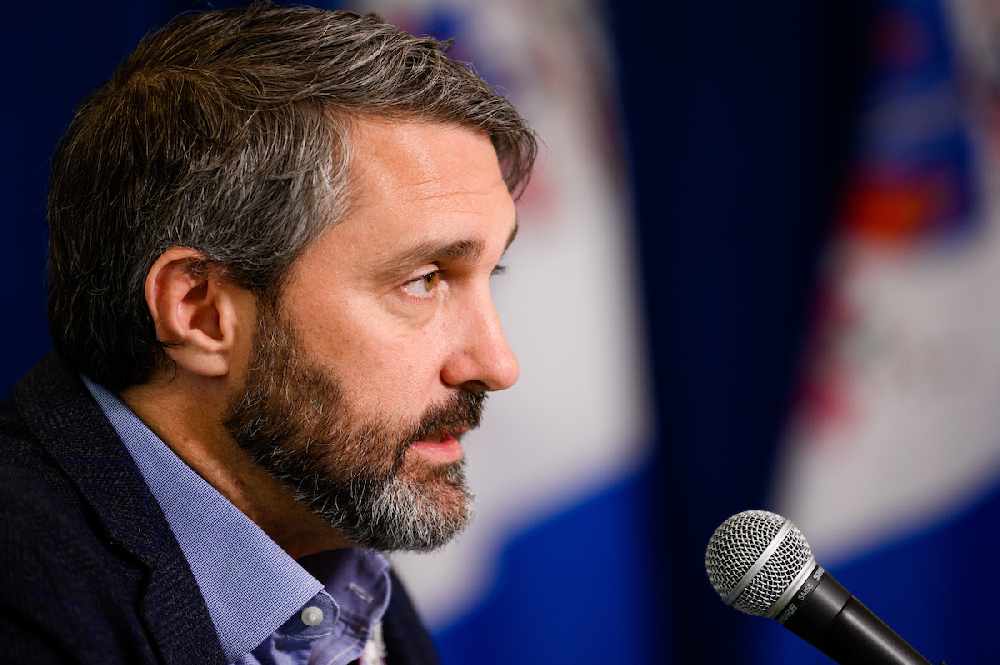 Yukon Premier Sandy Silver addresses Wednesday's COVID-19 update. Photo: Alistair Maitland/Yukon Government.
YG says hockey and soccer can resume this fall some events can resume and family bubbles can be expanded.
Yukoners hoping to lace up the skates or get back on the indoor soccer pitch this fall will be able to do so.
During Wednesday afternoon's COVID-19 update Premier Sandy Silver announced there are plans to get organized sports such as hockey and soccer back underway.
"Just like reconnecting with family and friends is important for mental wellness, so too is being active and playing sports," Silver said.
"As we prepare to return to these routines, we need to keep in mind the safe six applies at all times including on the rink and out in the field."
Dr. Brendan Hanley says as we begin phase three on Saturday planned, seated events such as ceremonies, entertainment, and cultural events can resume up to 50 people indoors, and up to 100 outdoors. This could include weddings and celebrations of life.
He also announced bars can have live music but no dancing will be permitted.
Hanley also says the number of households you can interact with can be increased from the current 'double-bubble'. He says you can bring in three to five additional families, with a maximum of 15 people in total.
"It's important to keep your bubble consistent in order to keep it safe," Hanley said.
"Reduced mingling and mixing of people is what helps us reduce the chance of someone getting sick from COVID-19 and spreading it to others. It also means that we can track exposures and contact trace more quickly and more efficiently if someone gets sick."
Hanley says while cases are increasing in other jurisdictions, Yukon is keeping an eye on the situation and if there are cases in the territory, it will not change the phase or level of risk.
Silver cautioned the government will continue to take a measured approach to lifting restrictions based on the advice of the chief medical officer of health.
There have been no new cases in Yukon since April 20th. Three Yukoners who contracted COVID outside the territory continue to recover.
Hanley says the big change for phase 3 is allowing organized, seated events. pic.twitter.com/XXe0kBxowL

— Tim Kucharuk (@TimKucharuk) July 29, 2020