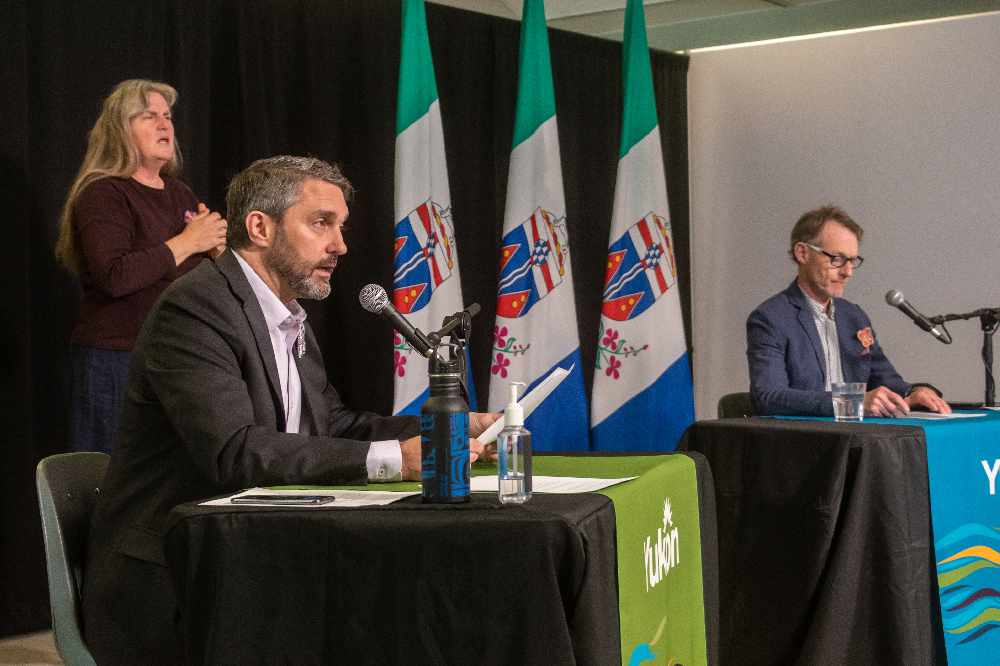 Premier Sandy Silver (left) and CMOH Dr. Brendan Hanley address Wednesday's update. Photo: Dan Bader/Yukon government.
Premier Sandy Silver says besides B.C., residents from the Northwest Territories and Nunavut can travel to Yukon as of July 1st; public pools, non-food vendors at Whitehorse farmers market also get the green light.
The Yukon Government says the territory is on track for phase 2 of its re-opening plan which begins July 1st.
Premier Sandy Silver told Wednesday afternoon's COVID-19 update in addition to B.C. residents being allowed in Yukon without the need to self-isolate f to 14 days, residents of the Northwest Territories and Nunavut can enter the territory as long as they travel direct or through B.C.
Silver says the decision was made based on a careful risk assessment.
"We are excited to once again welcome residents of British Columbia and our fellow territories to visit Yukon," Silver said.
"We are in a good position to be able to lift these restrictions because of the hard work of Yukoners who have diligently practiced the six steps to staying safe."
Dr. Brendan Hanley says Yukoners are going to need to behave differently come July 1st, as the territory will be opening itself up to a higher level of exposure, which is a calculated risk.
He says even though the risk will remain low into July, the true test has begun.
"This is not a simple matter of COVID versus normal life with closed borders; there is no normal life with closed borders," Hanley said.
"The effects are enormous and the risks are real. But opening up also has its price. That price is being vigilant with observing spacing and the safe six measures."
Silver also says with the welcoming of residents from the two territories, and B.C. they will be able to use territorial campgrounds and day-use areas.
He also says a marketing campaign geared toward B.C. will be launched on Wednesday.
Meantime public pools are now set to re-open on July 1st pending an approved operating plan, and non-food vendors will be allowed to attend the Fireweed Community Market in Whitehorse.
(With reporting by John Kennedy.)