The six banners are already on display as tourists flock to the territory. Photo: Yukon Tourism and Culture.
This year's set features two specially-themed markers featuring Canada 150, and the 75th anniversary of the Alaska Highway.
Yukon will be adorned with six colourful tourism banners to be displayed at Visitor Information Centre's, and on roadways as we head into the summer months.
The government's Tourism and Culture department released this year's banners at the Whitehorse Visitor Information Centre Tuesday morning featuring all local artists, costing the department $75,000.
Minister Jeanie Dendys says they all have different themes.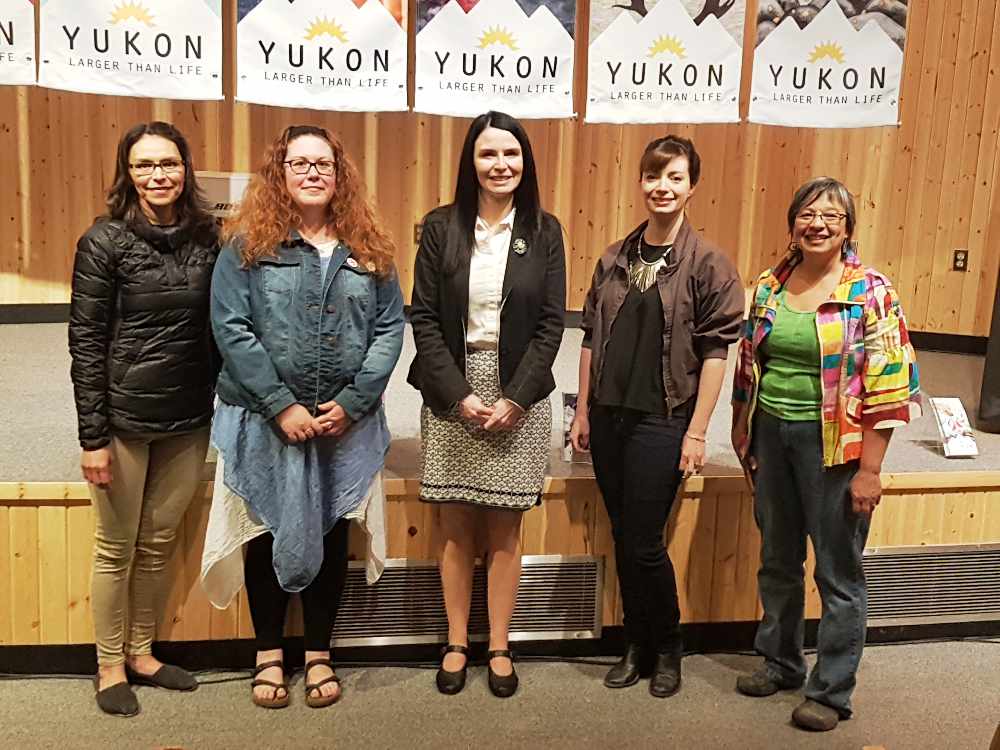 "One (represents) Canada's 150 anniversary, and one is themed for the 75th anniversary of the Alaska Highway, and then all of the other themes throughout the banners are in line with our themes for (the departments) tourism marketing strategy." Dendys said.
Whitehorse artist Leslie Leong did the Canada 150-themed piece depicting Gold Rush-era Mounties by a cabin with Caribou antlers and a Canadian flag.
"And so I chose the Klondike-era Mounties, as they are the ones so known for the Klondike Gold Rush, over the whole country and over the world." Leong said.
"The Caribou antlers also helped to focus on the north."
Other themes focus on culture and wilderness.
(Minister Dendys with some of the artists Tuesday morning. Photo: Tim Kucharuk/CKRW)
This is the first time the department put out the call for submissions for artists to put forward artwork matching various tourism themes.
Besides Leong, Erin Dixon created the Alaska Highway banner, Daphne Mennell's is titled 'Living History', Stephanie Ryan's 'Immersed in Nature', Rosemary Scanlon's Encounter Adventure, and Lorraine Wolfe's First Nations piece titled 'The Yukon'.