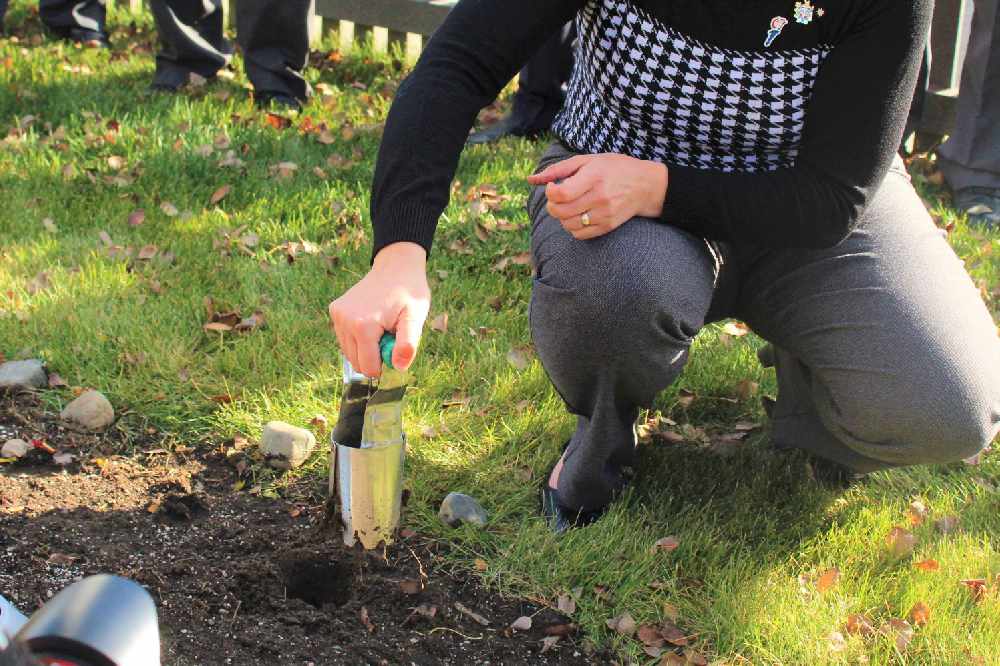 Commissioner Angelique Bernard Planting the first tulip of the ceremony. By John Kennedy / CKRW
A symbol of the Netherlands is making a home in Yukon, 75 years after Canadian soldiers fought to free the dutch from oppression.
The 75th anniversary of the liberation of the Netherlands is being honoured in Whitehorse.
On Wednesday afternoon, Members of the Whitehorse Legion Branch 254 and Yukon Commissioner Angelique Bernard planted tulips outside the Commissioner's Taylor House office.
Netherlands Consul General for Western Canada Henk Snoeken spoke about how Princess Margriet, a member of the Dutch Royal Family, who was born in Canada.
"It gives us a special place in our heart for Canada. Tulips in Canada are symbolizing for us the special relationship we have with Canada and Canadian people."
The Dutch family had been living in Canada since June 1940, after the occupation of the Netherlands by Nazi Germany.
The maternity ward of Ottawa Civic Hospital that Margriet was born in was temporarily declared to be extraterritorial by the Canadian government, as Dutch nationality laws would have declared her as Canadian and thus unable to join the line of succession for the throne.
Snoeken explained that Dutch people send tulips to express their gratitude, as Canadian soldiers were the ones who accepted the official surrender of German forces.
"What not everybody knows is that the main part of the troops that liberated the Netherlands was from Canada. There were regiments from BC, people from Yukon, regiments from Ontario, there were people in the navy and army from all over Canada. We're thankful for that."
From September of 1944 to April of 1945, the First Canadian Army fought German forces on the Scheldt estuary and in the process opened the port of Antwerp for Allied use.
Canadian forces then cleared northern and western Netherlands of Germans, allowing food, water and other relief to reach millions of desperate people.
Over 7,000 Canadian soldiers, sailors and airmen died fighting during the liberation of the Netherlands, a sacrifice never to be forgotten by the Dutch.
Yukon received 750 tulip bulbs and have planted over 100 at the Taylor House with the remaining bulbs being sent around to the schools throughout the territory and to the Whitehorse Legion.