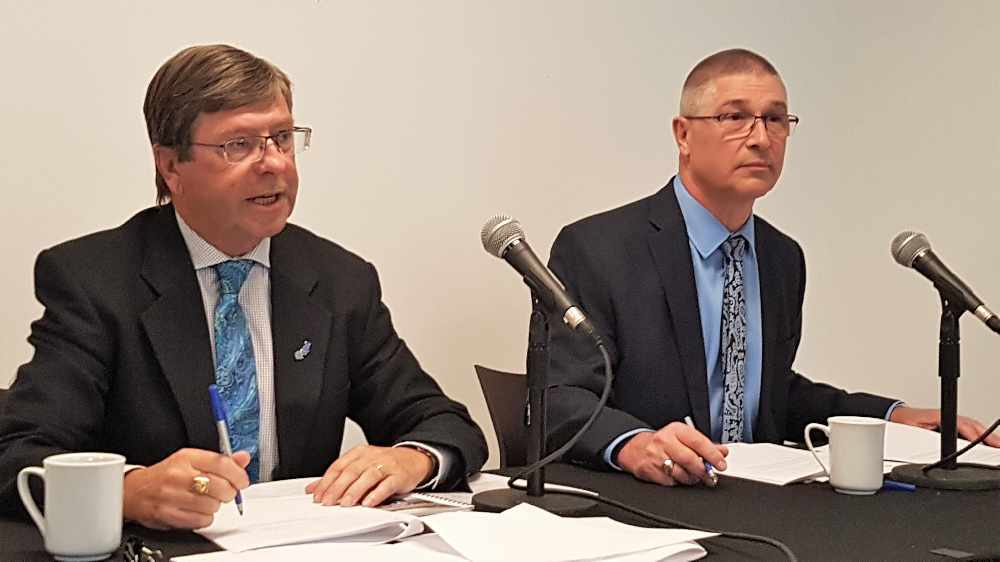 Yukon WCB Chair Mark Pike (left) and President and CEO Kurt Dieckmann address the Board's Annual Information Meeting at the Kwanlin Dun Cultural Centre Thursday afternoon. Photo: Tim Kucharuk/CKRW.
The report indicates the compensation fund is in good shape, and lost-time claims are down, as the board embarks on a legislative review.
The Yukon Workers' Compensation Health and Safety Board are out with their 2018 annual report.
Chair Mark Pike says last year, the board accepted over one-thousand injury claims, and the number of work-related deaths was up from one in 2017.
"That's 1,000 people in our small community suffering as a result of workplace incidents," Pike said. "We are incredibly saddened by the four workplace deaths that occurred last year. Three Yukoners died while at work, and one died of conditions in their workplace many years ago."
However, the report released Thursday afternoon, says the number of lost-time injury rate claims per 100 covered workers is at the lowest level in over 20 years.
Pike highlighted work done to lower the Compensation Fund. He says the board's policy of having the fund at between 121 and 129 percent of funds to provide injured workers with future care is getting closer to being met.
He says in 2014, the fund was at 160 percent of value, while in 2018, it comes in at 132 percent. Pike says this is because $60 million in rebates have gone back to employers since 2012.
Pike said a decision on a rebate for this year will be made in the fall.
Legislative Review Ordered
The Board also says it will undergo a review of the Workers' Compensation and Occupational Health and Safety Acts, with regulations surrounding violence and harassment already under the microscope.
President and CEO Kurt Dieckmann told the public briefing at the Kwanlin Dun Cultural Centre the new regulations will look to enhance hazard assessment requirements by employers.
"If they find that through hazard assessment that there is the likelihood of these things occurring, then put proper processes and procedures in place to prevent where they can, and provide support and prompt action when they do occur." Dieckmann said.
A public engagement process on this change to the regulations is being launched Friday.
Dieckmann says the two acts themselves will begin a full review later this year as ordered by the minister.
(Below: Audio of Thursday's public briefing.)