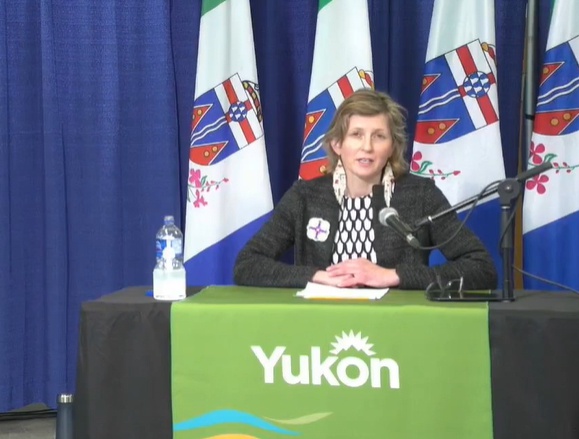 Acting CMOH Dr. Catherine Elliott. Photo: Facebook/Government of Yukon
There are a record 325 active cases of COVID-19 in the territory.
Yukon's COVID-19 situation is continually evolving with the rise of the territory's first wave of the Omicron variant.
There are now 325 active cases of COVID-19 in the territory, with an average of 50 new cases per day over the last 7 days.
Acting Chief Medical Officer of Health Dr. Catherine Elliott says the Yukon is seeing the epidemiologic signature of Omicron.
"In the short term, the number of people who could be infected with Omicron means that a large number of people could require hospitalization at the same time. We are seeing this in other parts of Canada. In Yukon, we are not there. Now is the time to prevent this."
Dr. Elliott says strictly following public health measures, getting fully vaccinated, and wearing a mask is the best way to prevent the Omicron variant from seriously impacting the territory's healthcare capacity.
"It is time to get our boosters to prevent severe disease. It is time to follow all the measures. Without these measures, our health system will likely be overwhelmed."
Dr. Elliott says there are 2 people currently hospitalized with COVID-19.