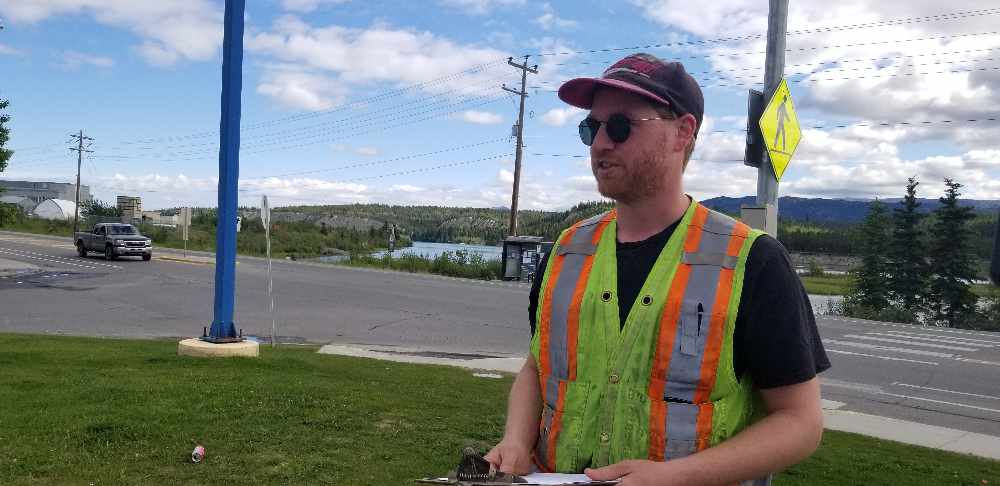 Program Coordinator Ira Webb assigning parts of the Yukon river for volunteers to pickup trash. Photo by John Kennedy / CKRW
Program Coordinator Ira Webb says they're hoping to see who's products are ending up as litter.
Zero Waste Yukon is cleaning up garbage in a part of Whitehorse to see what residents are discarding.
Program Coordinator Ira Webb says the goal of Wednesday's pick up in the Quartz Road area by the Yukon River is to do a brand audit of the trash and see what products are ending up in the wrong place.
"We're trying to quantify which companies are producing a lot of single-use stuff that tends to end up more as litter, just to get an idea of what we're seeing and how we can maybe approach these companies about changing their packaging and stuff like that.
Webb says they've done a brand audit before, but nothing to this scale.
"We've done it a little bit in our waste audits when we go into classrooms and things like that. When we audit waste we try to do a little bit of brand identification, but this is sort of our first look at the litter around town."
Zero Waste Yukon had volunteers out collecting trash around the noon hour on Wednesday.