Breakfast Club
Get ready for two totally tubular hours of commercial free hits from the best decade for music THE 80's!!
Walk like an Egyptian on sunshine, while totally eclipsing your heart! Bringing down the rains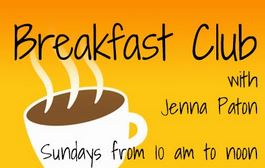 in Africa while living on a prayer!
The Breakfast Club with Jenna Paton Sundays 10 to noon brought to you by Legends in the Yukon Inn home of the best breakfast in the Yukon!
Send your request to jenna@ckrw.com